Olympus PEN-F Body Only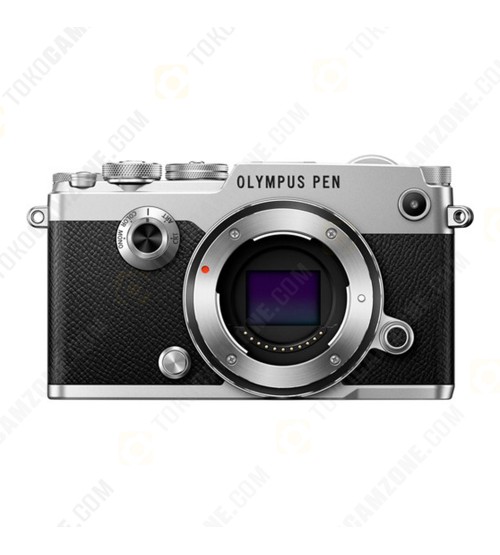 Lihat gambar lebih detail
Recalling the beloved profile and form factor of the original Pen film cameras, the silver Olympus PEN-F is a sleek, versatile mirrorless Micro Four Thirds camera that combines high-resolution imaging capabilities with advanced creative control. Revolving around a 20.3MP Live MOS sensor and TruePic VII processor, the PEN-F offers nuanced image quality with reduce noise, along with the ability to shoot at up to 10 fps with a mechanical shutter, record Full HD 1080p video, and a sensitivity range up to ISO 25600. In-camera sensor-shift-type 5-axis image stabilization helps to minimize the appearance of camera shake for sharper handheld shooting and the sensor and processor combination also avails a fast 81-area contrast-detection AF system for refined accuracy when working with a variety of subjects. Adjustment over the look and feel of imagery is encouraged by the dedicated Creative Control dial on the front of the camera, which offers direct access to black & white and color profiling, and a dedicated lever permits fine-tuning of exposure and contrast curves while shooting. Complementing these imaging assets, the camera body is physically characterized by its retro-styled design that incorporates a 2.36m-dot OLED electronic viewfinder and articulating 3.0" 1.037m-dot touchscreen LCD for intuitive control and handling. Classic in appearance yet technologically-inclined, the PEN-F marries a natural handling scheme with contemporary, multimedia recording abilities.

Making use of the redeveloped 20.3MP Live MOS sensor and sensor-shift image stabilization, the PEN-F also sees the inclusion of a High Res Shot mode that composites eight images into a single frame to effectively produce a 50MP image. An electronic shutter function can be used for completely silent performance, and also provides fast shutter speed times up to 1/16,000 sec. for working in bright conditions with wide aperture settings. An intervalometer function can be used to produce time-lapse movies, which can be exported at 4K UHD resolution, for recording up to 999 consecutive frames with up to 24-hour intervals. Additionally, built-in Wi-Fi is also available for wirelessly transferring imagery to or remotely controlling the camera from a linked smartphone or tablet.
20.3MP Live MOS Sensor and TruePic VII Processor
A redeveloped 20.3MP Live MOS Micro Four Thirds sensor pairs with the TruePic VII image processor to enable high-resolution stills shooting and Full HD video recording, along with a wide dynamic range, smooth color and tonal rendering, and a notable sensitivity range from ISO 200-25600 for working in a variety of lighting conditions. The sensor's design also omits a conventional optical low-pass filter in order to achieve higher apparent sharpness and resolution.

The sensor and processor combination avails quick performance throughout the camera system, too, including the ability to continuously shoot at up to 10 fps using the mechanical shutter for up to 39 12-bit raw files or 45 JPEGs in a burst. Infinite JPEGs can be recorded in a burst when shooting at 5 fps, or up to 250 raw files. And if working with the electronic shutter function, up to 20 fps shooting speeds are possible, along with a top shutter speed of 1/16,000 sec. In regard to video recording, Full HD 1080p is supported at up to 60 fps, as well as ALL-I and IPB shooting at 30 fps with a 77 Mbps bit-rate. In-camera time-lapse shooting is also possible, with the ability to export finished productions as 4K 3840 x 2160 movies at 5 fps.
Sensor-Shift 5-Axis Image Stabilization
In-body, sensor-shift image stabilization helps to minimize the appearance of camera shake by up to 5 stops with any lens in use and compensates for camera movements that become especially noticeable when working with telephoto shots, macro imagery, and long exposures. Furthermore, this unique image stabilization system works across five axes to compensate for vertical angle rotation, horizontal angle rotation, horizontal shift, vertical shift, and rolling camera shake movement. This range of detected movements serves to benefit traditional still image shooting as well as movie recording and working with moving subjects more effectively. Additionally, image stabilization can also be used when framing shots, for more accurate compositions, by half-pressing the shutter button.

For increased stabilization when working with longer lenses that incorporate lens-shift type image stabilization, 5-axis sync IS is also supported, this combines the effectiveness of the sensor-shift image stabilization along with the lens-specific optical image stabilization. This helps to compensate for up to six stops of camera shake for more effective handheld shooting with telephoto focal lengths and slower shutter speeds.
Body Design and Built-In Wi-Fi
For eye-level shooting, a high-resolution 2.36m-dot OLED electronic viewfinder is available and covers 100% of the image frame with a 1.08x magnification. A unique S-OVF setting can also be used with the viewfinder to expand the viewing dynamic range to better simulate working with an optical viewfinder.

Alternatively, a large 3.0" 1.037m-dot vari-angle touchscreen LCD is also available for clear image playback, menu navigation, and live view shooting. The tilting design better enables working from high, low, and front-facing angles, and the screen can also be closed facing inward to protect it while shooting with the EVF.

Featuring a physical design inspired by the original Pen half-frame 35mm film cameras, the PEN-F's compact body design incorporates a range of manual control dials for intuitively adjusting exposure settings and modes.

A dedicated Creative Control Dial on the front of the camera body offers direct access to four separate artistic functions—Mono, Art, Color, and CRT—and a lever on the rear of the camera avails access to curves adjustments to fine-tune contrast and brightness with shadow, mid-tone, and highlight points.

A manual exposure compensation dial permits adjusting exposures by +/- 3 EV in 1/3 steps, and compensation can also be assigned to the front or rear control dials to avail +/- 5 EV adjustments in 1/3, 1/2, or 1 EV steps.

A hot shoe permits working with an external flash, such as the included FL-LM3, to provide additional illumination to the scene.

The included BLN-1 rechargeable lithium-ion battery is rated to provide approximately 330 shots per charge.

Built-in Wi-Fi allows you to pair the PEN-F with a smartphone or tablet, and a QR code system lets you quickly and easily connect devices. Once paired, you can wirelessly transfer imagery to the mobile device for sharing online, or the device can be used to remotely control the camera.
Creative Control
Aided by the dedicated Creative Control Dial, a slew of aesthetic adjustments can be made to imagery in-camera:


Monochrome Profile Control records black & white imagery and the overall look can be fine-tuned using color filter settings for adjusting contrast response; vignetting can be applied; and curves can be used to adjust contrast and brightness irrespective of independent colors. A film grain effect can also be added and presets are available to mimic the look of specific film types, such as Classic B&W or Classic Infrared films, and these presets can be further customized.

Color Profile Control offers a similar range of creative adjustment capabilities, such as the ability to globally fine-tune color saturation or independently adjust saturation levels across 12 individual colors for selective color imagery. Curves settings are available, too, and three presets can be saved.

Art Filter lets you apply a range of pre-developed looks to your imagery, including Pop Art, Soft Focus, Pale & Light Color, Light Tone, Grainy Film, Pin Hole, Diorama, Cross Process, Gentle Sepia, Dramatic Tone, Key Line, Water Color, Vintage, and Partial Color. Many of these looks are available in varying degrees of strength, and modes can be combined or refined for more personalized control.

CRT lets you apply one of 12 global color casts across the image, and the strength of the color can be controlled across eight steps from -4 to +3
Technical
Image Resolution
20.3 MP
Sensor Type
CMOS, 17.4 x 13 mm
Display Size
3"
Memory Card Type
SD / SDHC / SDXC
Battery
BLN-1
Warranty
1 Year Service and Spareparts