Sigma For Canon 100-400mm f/5-6.3 DG OS HSM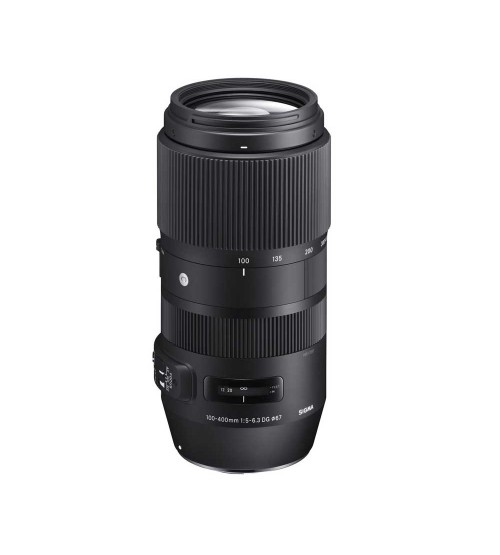 Lihat gambar lebih detail
PRODUCT HIGHLIGHTS
· EF-Mount Lens/Full-Frame Format
· Aperture Range: f/5 to f/22
· Four SLD Glass Elements
· Super Multi-Layer Coating
· Hyper Sonic AF Motor, Manual Override
· Optical Stabilizer
· Rounded 9-Blade Diaphragm
· TSC Material, Brass Bayonet Mount
· Compatible with Sigma USB Dock
Blending a long reach with a convenient form factor, the Canon EF-mount 100-400mm f/5-6.3 DG OS HSM Lens is a telephoto zoom within Sigma's Contemporary series that blends both a refined optical design with a compact and lightweight physical construction. On the optical front, this zoom utilizes four SLD glass elements to noticeably reduce chromatic aberrations and color fringing throughout the zoom range for improved clarity and color accuracy, and a Super Multi-Layer Coating has also been applied to increase contrast when working in strong lighting conditions.
Balancing the optics, the lens sports a Hyper Sonic Motor to produce quick, smooth, and quiet autofocus performance with full-time manual focus override. An Optical Stabilizer also benefits handheld shooting by minimizing the appearance of camera shake for sharper imagery. The physical design utilizes Thermally Stable Composite material for durability in a wide range of environments; both twist and push-pull zoom mechanisms are available for improved control over field of view; and a brass bayonet mount also offers rigidity and mounting precision.
· As part of the Contemporary line within Sigma's Global Vision series, this lens is designed to achieve a balance between convenience and performance, and meshes a compact, lightweight build and versatile handling with notable optical attributes.
· Telephoto zoom lens is designed for full-frame Canon EF-mount DSLRs, however can also be used with APS-C models where it will provide a 160-640mm equivalent focal length range.
· Four Special Low Dispersion (SLD) elements are featured in the optical design and help to reduce color fringing and chromatic aberrations for improved clarity and color accuracy throughout the zoom range.
· A Super Multi-Layer Coating has been applied to lens elements in order to minimize lens flare and ghosting and contribute to producing contrast-rich and color-neutral imagery, even in backlit conditions.
· Front lens element has been treated with a water- and oil-repellent coating to benefit working in harsh environmental conditions.
· Nine-blade rounded diaphragm contributes to a smooth and pleasing bokeh quality.
· The integrated HSM (Hyper Sonic Motor) realizes quick and quiet autofocusing, which is further complemented by an optimized AF algorithm to produce smoother focusing performance. The HSM also permits full-time manual focus control simply by rotating the focus ring at any time.
· Optical Stabilizer system minimizes the appearance of camera shake to benefit making sharper imagery when shooting handheld.
· In addition to a conventional twist mechanism for adjusting the zoom position, a push-pull movement can also be used for faster movement.
· The lens is constructed using a Thermally Stable Composite (TSC) material, along with traditional metals, for greater precision and use in wide temperature variations.
· The bayonet mount is constructed from brass for ensured accuracy and durability. Additionally, rubber sealing is incorporated in the mount design to render it dust- and splash-resistant.
· Compatible with optional TC-1401 and TC-2001 Teleconverters to effectively extend the reach of the lens to 140-560mm f/7-9 or 200-800mm f/10-12.6, respectively.
· This lens is compatible with the optional Sigma USB Dock for fine-tuning different lens characteristics and updating its firmware.
Technical
Warranty
2 Year Service & Spareparts