Sigma For Canon 17-70mm F/2.8-4 DC Macro OS HSM | C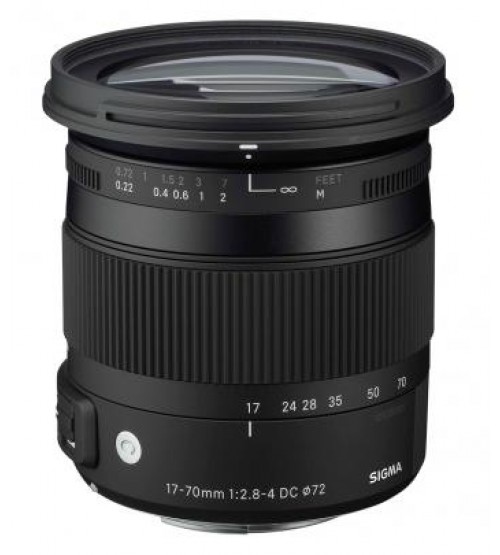 Lihat gambar lebih detail
Product Descriptions
The Sigma 17-70mm f/2.8-4 DC Macro OS Lens for Canon is a standard zoom lens designed especially for DSLRs with APS-C-sized image sensors. This lens has a 35mm-equivalent focal length range of 27.2-112mm, providing wide-angle to portrait-length angles of view for use in everyday shooting situations.
This lens features a fast f/2.8-4 maximum aperture to help better control your focus plane and to aid in low-light shooting. A built-in Optical Stabilizer also helps in low-light situations by providing a four-stop reduction in the appearance of camera shake, which is ideally suited for macro and telephoto shooting as well. The Hyper Sonic AF Motor delivers fast, smooth, and quiet auto focusing that greatly benefits video applications. This AF motor can also be instantly deactivated by rotating the manual focus ring, giving you the ability to fine-tune your focus manually. The integration of two FLD, one SLD, and three aspherical lenses in the construction helps to reduce the effects of chromatic and chromatic axial aberrations, and Super Multi-Layer coated elements help to increase contrast for sharp, clear imagery.
As part of Sigma's new Contemporary line of lenses, this lens is designed using Thermally Stable Composite (TSC) materials to help reduce the overall weight and size of the lens barrel by about 30% without compromising on optical integrity, rigidity, or overall durability.
For updating lens firmware and fine-tuning its nuances to best-suit your personal shooting, this lens is compatible with the Sigma USB Dock. The dock allows you to specify certain parameters and other settings through the Sigma Optimization Pro software, such as AF speed and focusing limitations.
Features :
· Aperture Range: f/2.8-22
· Optical Stabilizer
· Macro Capabilities
· Compact and Lightweight TSC Construction
· FLD, SLD, and Aspherical Lens Elements
· Super Multi-Layer Coating
· Compatible with Sigma USB Dock
Technical
Warranty
2 Year Service & Spareparts