Sony FX6 Full Frame Cinema Camera Body Only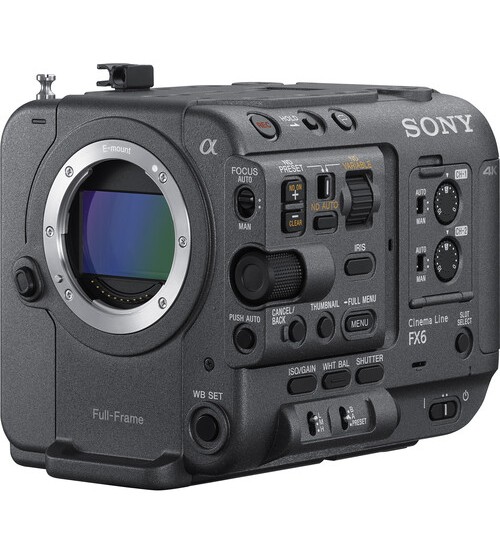 Lihat gambar lebih detail
Features
>> 4K Full-Frame 10.2MP CMOS Exmor R Sensor
>> DCI 4K60p | UHD 4K120 | 1080p240
>> 15+ Stops of Dynamic Range in S-Log 3 EI
>> Compact Form Weighs Just <2 lb
>> Phase Detection AF/Face Tracking/Eye AF
>> Base 800-12,800 ISO / 320-409,600 Max
>> S-Cinetone, S-Log3, HLG Modes
>> 10-Bit 4:2:2 XAVC-I/16-Bit Raw Output
>> Dual CFexpress Type A/SDXC Card Slots
Kamera Full-Frame FX6 dari Sony dikembangkan untuk menawarkan pencitraan gaya bioskop yang serbaguna dalam bentuk yang benar-benar ringkas. Dengan kemampuan untuk menangkap hingga 15+ stop rentang dinamis, gamma S-Cinetone Sony untuk warna kulit seperti film, dan perekaman XAVC-I hingga 10-bit, 4:2:2, FX6 siap untuk melengkapi FX9 Anda. atau VENICE capture dan untuk mengambil gambar dokumenter, gimbal, dan drone dengan gesit. Kamera FX6 menggabungkan sensor Exmor R full-frame 4K dengan mesin BIONX XR untuk pengambilan yang sangat sensitif dalam berbagai pengaturan menggunakan ISO dasar 800 serta mode sensitivitas tinggi ISO 12800 untuk pemandangan bernuansa cahaya rendah.
Versatile Addition to Sony Cinema Line
>> As part of Sony's Cinema Line, the FX6 shares key imaging features with established cameras like the VENICE and FX9. Common core attributes include a full-frame sensor, filmlike color science, a compact, lightweight form, professional connector interfaces, and advanced autofocus choices.
Firmware Update v1.10
Adds 100p and 120p options to the Slow and Quick Motion frame rate menu when the codec is set to RAW or RAW and XAVC-I
Improves the overall stability of the FX6 camera
4K Full-Frame CMOS Exmor R Sensor
The FX6's 10.2 MP image sensor features back-side illumination for excellent low-light performance, 627 focal plane points for speedy phase-detection autofocus, and full-frame lens compatibility that produces a rich, immersive look. The sensor's fast scan speed minimizes rolling shutter artifacts and supports high frame rates and quick autofocus responses.
15+ Stops of Dynamic Range
The Exmor R sensor also enables the FX6 to capture a whopping 15+ stops of dynamic range in Cine EI mode with S-Log3, creating nuanced, high-resolution images.
Wide ISO Range
Choose from a base ISO of 800, a high-sensitivity 12,800 ISO for lower-light capture, and a 409,600 maximum ISO for true low-light settings.
Electronically Variable ND Filters
Set the FX6's integrated neutral density (ND) filter system to auto for correctly exposed shots even in changing light conditions, or smoothly adjust the ND filter density manually in increments from 1/4 to 1/128 as you shoot; both options will produce properly exposed images without affecting your chosen depth of field.
Advanced XAVC Codec Options
The FX6 is the first compact, full-frame camera to offer UHD 4K 4:2:2 capture in the high-quality yet efficient XAVC-I codec. It also enables you to choose from a range of professional XAVC Intra and XAVC Long codecs at bit rates ranging from 35 to 600 Mb/s.
High Frame Rate Selections
For slow-motion and fast action looks, choose from full-frame rates ranging from:
>> 1-60 fps in HD to DCI 4K resolutions
>> 100 or 120 fps in HD through UHD 4K
>> 150, 180, 200, or 240 fps in Full HD
Super35 choices include:
>> 1-60, 100, and 120 fps in Full HD
Expressive Cinematic Look
Sony's S-Cinetone gamma curve offers a cinematic look with filmlike color, softer tones, and pleasing skin tone reproduction. Not only is this cinematic look available for in-camera viewing, but it can also be captured and output with minimal or no grading at all for a time-saving post process. The S-Cinetone, S-Log3, S-Gamut3, and S-Gamut3.Cine choices also streamline the process of matching FX6 footage with your VENICE or FX9 video and offer broad color-grading options.
Fast Hybrid/Phase Detection Autofocus
Compatible with 50+ native Sony E-mount lenses, the FX6's improved autofocus choices include Face Detection and Eye Autofocus modes for rapid focusing with extremely sharp accuracy, even in lower-light settings. The phase detection autofocus accomplishes this accuracy using seven transition-speed steps and five subject-sensitivity.
Image Stabilization and More with Catalyst and Metadata
Pair the FX6 with Sony's Catalyst Prepare/Browse software to use metadata to stabilize your image, automatically rotate gimbal footage, and add flags for easier clip filtering in post-production.
Touchscreen 3.5" LCD Control
The FX6's 3.5" LCD monitor offers both high-resolution viewing and the ease of touchscreen camera control. The LCD quick menu controls include key settings like Codec, Imager Scan Mode, Picture Size and Frequency, Base ISO/Sensitivity, Shooting Mode, and Audio Levels.
Reliable Design and Construction
Constructed with a lightweight yet durable magnesium alloy chassis, the FX6 body offers maximum reliability and efficiently disperses heat to enable extended recording times. Exterior seams, buttons, and interfaces have been treated with updated sealing that improves the camera's dust and moisture resistance as well.
4-Channel Audio Recording
The FX6 offers up to 4-channel audio recording by combining sources from the dual XLR inputs, the 2-channel multi-interface shoe input, and the stereo mic built into the camera's top handle. This enables the simultaneous use of an external microphone for recording your main audio source and the built-in microphone for ambient sound and/or voice memos by the operator.
Professional Input/Output Interface
FX6 input and output ports include a selectable 12G/6G/3G-SDI output for flexible monitoring, 12-bit raw output via SDI, and an HDMI output. It also has timecode input and output for syncing multiple cameras and a built-in Wi-Fi module.
CFexpress Media Slots and Multiple Recording Modes
The FX6's dual media slots accept both rugged, high-performance, high-capacity CFexpress Type A cards and widely available UHS-II/UHS-1 SDXC cards. Note that the CFexpress Type A cards are required for 100/120 fps UHD 4K capture and 150/180/200/240 fps HD high-speed capture.
Modular, Grab-and-Go Design
The modular design of the FX6 enables you to pare down to its compact body for gimbal or drone use, or it can be used with separately available accessories such as a smart grip and smart handle for fingertip control when shooting handheld. A 3.5" LCD screen can be quickly positioned on the camera at multiple locations to provide comfortable, ergonomic viewing.
Content Browser Mobile Compatibility
When used with the separately available Content Browser Mobile app and a compatible smartphone or remote control, the FX6's Wi-Fi function enables remote monitoring and focus/iris/zoom control.
Technical
Warranty
Sony Indonesia