Tamron SP 24-70mm F/2.8 Di VC USD For Nikon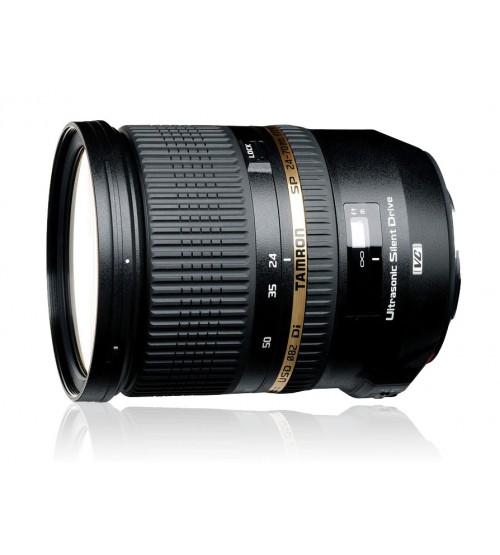 Lihat gambar lebih detail
Tamron Co., Ltd. (President & CEO: Morio Ono / Headquarters: Saitama City), a leading manufacturer of optical equipment, announced the introduction of the SP 24-70mm F/2.8 Di VC USD (Model A007), the world's first*1 full-size high-speed standard zoom lens equipped with VC (Vibration Compensation) image stabilization and USD (Ultrasonic Silent Drive)*2 , with resolution at the top of its class. The lens will be available for Canon, Nikon and Sony mounts. A release date has not been announced.
World's first full-size, high-speed standard zoom with built-in VC (Vibration Compensation)*

3

. Even when shooting in low-light conditions with a slow shutter speed to render sharpness, Tamron's acclaimed VC allows for stable handheld camera work, to more fully enjoy the benefits of this high-speed zoom lens.




Uses specialized high-grade glass in the three LD elements, three Glass Molded Aspherical Lenses, one Hybrid Aspherical Lens and two XR (Extra Refractive Index) glasses, delivering top-of-the-class quality images suited to this high-grade lens. Using a rounded diaphragm

4

, the lens achieves gorgeous blur effects.




Features USD (Ultrasonic Silent Drive) to power a speedy AF drive together with a continuous manual mechanism.




This high-speed standard zoom lens has a wide-end focal length of 24mm that expands the photographic area.




The lens adopts the new technology including the latest optical design, VC (Vibration Compensation) image stabilization and USD (Ultrasonic Silent Drive), all in a lighter and more compact package.




6. Moisture-resistant construction helps prevent water from penetrating the lens.



(1) For high-speed standard zoom lens compatible with full frame size SLR cameras. Current as of April 5, 2012. (Source: Tamron).
(2) USD (Ultrasonic Silent Drive) is Tamron's proprietary ultrasonic motor drive.
(3) The Sony mount does not include VC, because the body of Sony digital SLR cameras includes image stabilization functionality. The product name for Sony cameras is "SP 24-70mm F/2.8 Di USD" without the VC designation.
(4) This rounded diaphragm retains a nearly circular shape even when taken two stops down from its fully open state.
VC (Vibration Compensation)
VC (Vibration Compensation) is Tamron's proprietary image stabilization system. Tamron's VC is a three-coil system, whereby three driving coils activate the shake-compensating VC lens group electromagnetically via three ceramic balls. The VC lens elements are held in place only by contact with the ceramic balls, achieving smooth movement with little friction. This provides a stable viewfinder image with excellent tracking performance. And as the VC lens may be moved in parallel using only the motorized control, the mechanical structure has been simplified, enabling the creation of a more compact lens.
New VC system (moving coil method)
Tamron's original VC image stabilization mechanism utilized a moving magnet system whereby a heavy magnet was positioned near the moving VC lens element. In the new VC unit the positions of the magnet and the coil are reversed, because of this the VC optical lens element is attached to the coil. The new VC mechanism employs a moving coil mechanism with a lightweight coil, and the lighter coil reduces the load on the drive system. Thus, the lighter, more compact new VC unit contributes to the lens's overall light weight and compact size.
Because the 24-70 mm F/2.8 Di VC USD is a high-speed zoom lens with maximum aperture of F/2.8, its VC system must drive a lens that is larger and heavier than other zooms. Therefore, the shape, size and layout of the drive coils are all designed to obtain sufficient thrust. The result is a full-size, high-speed zoom that provides the same high level of compensation effect.
About the ultrasonic motor
In the ultrasonic motor, a piezoelectric element arranged in a ring formation generates ultrasonic vibrations in a metallic ring stator, and the vibration energy is used to rotate a metallic ring rotor that is attached to the stator. The rotation energy is in turn transferred from the metallic ring rotor to operate the focus lens.
Tamron is a recognized leader in the manufacture of precision optics offering a broad selection of meticulously engineered interchangeable lenses for professional photographers and photo enthusiasts. Founded in 1950, Tamron's passion for innovation brought forth the groundbreaking development of mass-produced hybrid Aspherical elements, giving way to enormously popular compact, wide-range zoom lenses. Dynamic research and development , committed to advanced optical engineering, has produced a stream of award-winning Tamron lenses and defined the All-in-One zoom lens category, exemplified by 2010's 18-270mm Di II VC PZD. Astonishingly compact and lightweight, this 15X zoom features proprietary VC (Vibration Compensation) technology, effectively counteracting image-degrading blur caused by camera shake along with a fast, quiet PZD (Piezo Drive) autofocus mechanism. Tamron lenses deliver a superb fusion of performance and value, enabling today's high-resolution digital SLR cameras to perform at their peak.
Technical
Warranty
1 Year Halodata Indonesia (+2 Years Registrasi Online)