Tamron For Nikon SP 35mm f/1.8 Di VC USD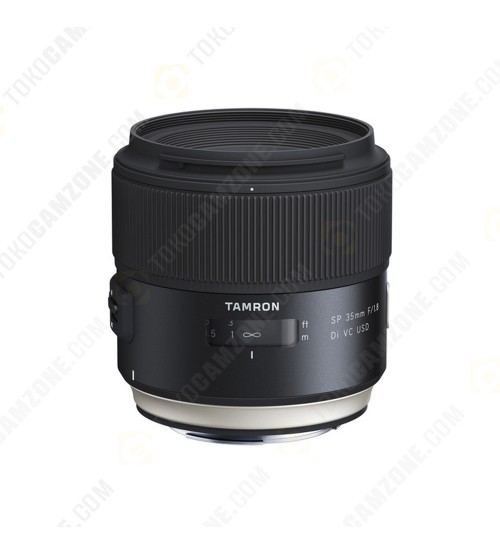 Lihat gambar lebih detail
PRODUCT HIGHLIGHTS
· Nikon F Mount/FX Format
· Aperture Range: f/1.8 to f/16
· One LD, One XLD, Two Aspherical Elements
· eBAND and BBAR Coatings
· Fluorine Coating on Front Element
· USD AF Motor, Full-Time Manual Focus
· VC Image Stabilization
· Rounded 9-Blade Diaphragm
· Moisture-Resistant Construction
· Includes SILKYPIX Developer Studio
An update to a classic wide-angle prime, the Nikon F mount SP 35mm f/1.8 Di VC USD from Tamron pairs the versatile focal length with a sophisticated optical layout and VC image stabilization for enhanced image quality. One Low Dispersion element, one eXtra Low Dispersion element, and two aspherical elements help to control a variety of aberrations and distortions for consistent and even illumination and sharpness, as well as reduced color fringing, and eBAND and BBAR coatings work to suppress flare and ghosting for increased contrast and color fidelity.

Complementing the imaging capabilities, this 35mm f/1.8 lens is also characterized by a ring-type USD motor, which provides quick, quiet autofocus performance with full-time manual focus capabilities. An inner focusing design and Floating System are also used, and aid in achieving a minimum focusing distance of 7.9" with a maximum magnification of 1:2.5. The lens' construction is also notable in its inclusion of various seals to protect against moisture, as well as a fluorine-coated front element to guard against fingerprints, smudging, and water.
· A wide-angle prime, this 35mm lens is designed for FX format Nikon F mount DSLRs, and is also compatible with DX models where it will provide a 52.5mm equivalent focal length.
· Fast f/1.8 maximum aperture benefits working in low-light conditions and also avails selective focus control.
· One LD (Low Dispersion) element helps to minimize chromatic aberrations in order to achieve greater clarity with reduced color fringing.
· Two aspherical elements correct for spherical and comatic aberrations, as well as distortion, for consistent edge-to-edge sharpness and illumination throughout the aperture range, as well as a reduction of sagittal comatic flare.
· eBAND (Extended Bandwidth & Angular-Dependency) and BBAR (Broad-Band Anti-Reflection) coatings have been applied to lens elements to reduce surface reflections and prevent lens flare and ghosting for increased contrast and color accuracy.
· VC (Vibration Compensation) image stabilization is incorporated into the lens' design to minimize the appearance of camera shake for sharper handheld shooting in low-light conditions.
· Ring-type USD (Ultrasonic Silent Drive) motor is employed for fast, precise, and quiet autofocus performance that benefits both stills and video recording. This motor also enables full-time manual focus control without having to shift into a dedicated MF mode.
· A Floating System is employed that moves a single group of elements to control focus in order to provide faster AF response as well as a minimum focusing distance of 7.9" and maximum magnification ratio of 1:2.5 for enhanced close-up shooting.
· Moisture-resistant construction incorporates seals around the lens mount and other areas to benefit working in inclement conditions. Additionally, a fluorine coating has been applied to the front lens element to repel water, fingerprints, and smudges for easier cleaning of the lens surface.
· Rounded nine-blade diaphragm produces a pleasing out-of-focus quality when working with shallow depth of field techniques.
· SILKYPIX Developer Studio 4.0 for Tamron software is included with the lens, which, aside from enabling basic raw processing and image adjustments, works to specifically correct for various aberrations, including color fringing, distortion, and peripheral light fall-off, using dedicated optical data from Tamron's SP-series of lenses.
Technical
Warranty
1 Year Halodata Indonesia (+2 Years Registrasi Online)