Tamron For Nikon SP AF 17-50mm f/2.8 XR Di II LD Aspherical (IF)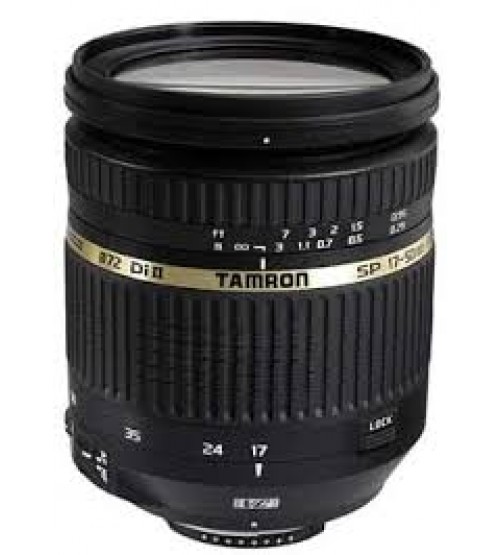 Lihat gambar lebih detail
The new SP AF17-50mm F/2.8 XR Di II LD Aspherical [IF] is a lightweight, compact, fast standard zoom lens designed exclusively for digital SLR cameras, expanding the product concept of the popular SP AF28-75mm F/2.8 XR Di zoom lens.
Two years after the SP AF28-75mm F/2.8 XR Di was launched as the standard for lightweight, compact, fast standard zoom lenses, it remains highly popular with advanced amateur and professional photographers alike. Now Tamron, moving with market trends, has unveiled a new design for fast standard zoom lenses used exclusively for digital SLR cameras that covers the easy to use angles of view: the focal length is equivalent to 26-78mm when converted to a 35mm format. In particular, the wide-angle focal length is established at 17mm (26mm equivalent) to obtain a wider angle of view than ordinary standard zoom lenses, while maintaining the remarkably lightweight and compact size of the earlier full frame zoom lens model. Tamron`s conversion ratio is 1.55 x.
In addition, portrait shots are made beautiful with the natural out-of-focus effect characteristic provided by the fast F/2.8 aperture. Additionally, a broader photographic expression through the use of faster shutter speeds as a result of the maximum aperture offers enhanced photographic pleasure. The minimum focus distance of 27cm (10.6`) over the entire zoom range achieves a maximum magnification ratio of 1:4.5 at 50mm. The lens boasts one of the best close-up shooting performances in the class of fast standard zoom lenses designed exclusively for digital cameras and featuring an F/2.8 maximum aperture throughout the entire zoom range, to ensure stress-free photographic shots at all focal lengths and distances.
Technical
Warranty
1 Year Halodata Indonesia (+2 Years Registrasi Online)