Tamron For Nikon SP AF 90mm F/2.8 Di Macro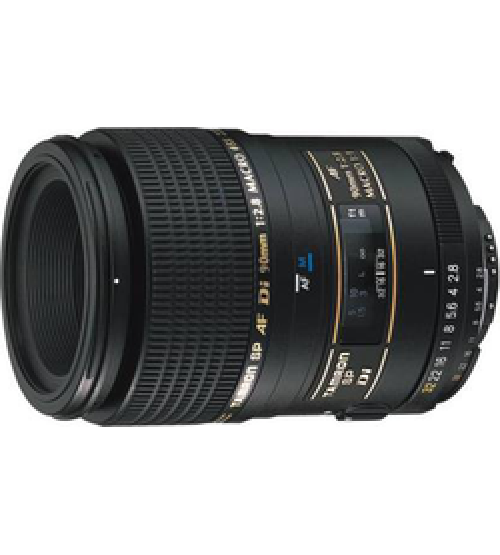 Lihat gambar lebih detail
Tamron`s 90mm macro lens that is world renowned for its outstanding optical performance and lightweight and compact design, has been redesigned to feature `Di` (Digitally Integrated) design. The SP AF90mm Macro, first introduced in 1979, underwent a major model change several years ago to achieve 1:1 macro capability. Even with that change, the lens has remained one of the most highly acclaimed lenses in the world as `the best buy` for more than two decades since 1979. Now the lens has further evolved into a new macro lens that can be recommended for use with film as well as digital SLR cameras.
MAIN FEATURES
Outstanding Image Quality by Virtue of `Di` (Digitally Integrated) Design
The lens provides outstanding image quality whether the medium in use is silver halide (film) or a digital image sensor, since it features Tamron`s `Di` optical system designed to meet the performance characteristics of digital cameras as well as film cameras. Model 272E uses the same type optical configuration as that of the conventional model 172E, but the `Di` design is achieved by applying a new optical design to its coating surfaces to eliminate optical aberrations commonly seen when traditional optics are used on digital SLR cameras.
Improved Coating
One major difference between digital cameras and film cameras is how internal reflections may occur and to what extent. These internal reflections can cause unwanted flare or ghosting on the final image. In a film camera, internal reflections can be created inside the mirror box of the camera or from light reflecting off the film surface itself. In a digital camera, stronger reflections can occur from light bouncing off the sensor, since CCD and CMOS sensors are almost mirror-like on their surface, making the problem more noticeable with digital cameras. Unlike conventional lenses designed to cope with internal diffused reflections of the mirror box and film surface, Di lenses offer new anti-reflection countermeasures that are essential in lenses designed for use with digital cameras. The new SP AF90mm Di (Model 272E) features an improved coating technology that reduces the reflections that are likely to become a problem, to the absolute minimum.
Focal Length Ideal for Film and Digital Photography
The 90mm lens offers a medium telephoto focal length making it particularly useful as a portrait macro lens when used with a film camera. When used on a digital SLR camera (with an APS-C sized image sensor), the lens provides a focal length equivalent to that of 140mm (on a 35mm SLR camera), so it can be used conveniently as a telephoto macro lens for digital photography.
Easier Handling with Improved Outer Design
The rubber pattern on the focus control ring of the lens has been improved to ensure a better grip since, as a macro lens, it is often used in the manual focusing mode. In addition, finishing touches like the graphic display and imprinting are the same as found on other Di-series lenses and provide better visibility of controls and markings, while at the same time gives a highly aesthetic presentation of the lens as a quality product.
The Most Lightweight in Its Class
By the employment of an improved design that makes it the most lightweight medium telephoto macro lens available, the lens weighs 15 grams (0.5 oz) less and is 2.5mm (0.1 in.) shorter than the previous model 172E. The tradition of Tamron`s 90mm macro renowned for quality compact design is continued and improved with this new `Di` version. The world`s most lightweight among AF90mm to 100mm F/2.8 class life-size macro lenses available at present in the market. The weight values used for comparison are those of Nikon AF-fit lenses.
Technical
Warranty
1 Year Halodata Indonesia (+2 Years Registrasi Online)