Tokina For Nikon AF 17-35mm f/4 AT-X PRO FX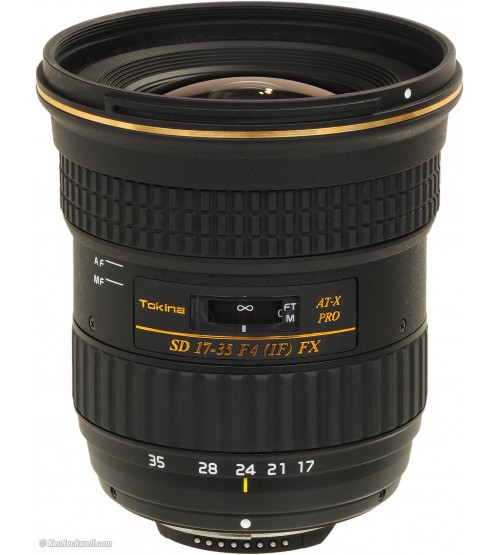 Lihat gambar lebih detail
The 17-35mm f/4 Pro FX Lens for Nikon Cameras from Tokina is designed for use with a Nikon full frame digital or film camera. This ultra wide-angle lens gives you a 103.9° angle of view at the 17mm end of the zoom, and a bright, constant f/4.0 maximum aperture, making it ideal for low light photography. Two Super-Low Dispersion glass elements and one aspheric glass element produce superior contrast and sharpness, and help control chromatic aberration.
Tokina's One-Touch Focus Clutch Mechanism provides a quick and simple way to switch back and forth between autofocus and manual focus. The lens has been designed using improved seals, making it "water-resistant" (not waterproof), so that damp conditions won't spoil your shooting expeditions.
Designed for full-frame cameras, the Tokina AT-X 17-35mm F/4 give photographers a new wide-angle option. With a focal length of 17mm at the wide side the lens yields a spectacular 103.9 degree field of view which is great for shooting in tight situations or for taking in wide expanses of space.
This compact wide-angle zoom has a bright constant F/4 aperture make viewing and auto focus possible in lower light situations but still maintaining a reasonable size and weight.
Two Super-Low Dispersion glass elements and one aspheric glass allow the proprietary optical design to achieve excellent contrast and sharpness as well as controlling chromatic aberration.
Tokina's exclusive One-touch Focus Clutch Mechanism allows the photographer to switch between AF and MF simply by snapping the focus ring forward for AF and back toward the lens mount for manual focusing.
The mechanics have been designed for better seals around moving parts making the lens more water-resistant* than lenses of the past. The lens is also designed to stand up to the rigors of daily use by photographers in a wide variety of shooting conditions and environments.
Technical
Warranty
1 Year Service & Spareparts