Yunteng YT-228 Mini Tripod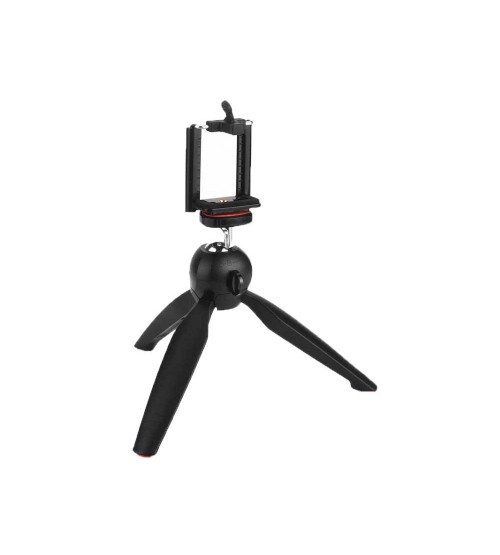 Lihat gambar lebih detail
PRODUCT HIGHLIGHTS
Tripod:
· It has a panoramic rotation of 360 °
· There is a switch which can fix the panoramic rotation angle which makes the clip, the camera/ phone and even the selfie stick more stable.
· Unique mirror design, self-timer and more comfortable.
· For standard tripod mounting hole (1/4 screw holes) digital camera.
· Material rugged, micro-single phone DV machine in the above stability, is not worried.
· And normal tripod like to have some stability even single micro / card camera, long exposure shooting night problem is not large.


Phone holder:
· The bracket is very small and convenient, suitable for (53mm - 80mm) wide use of mobile phones, mobile phone cards free to adjust the bit width , easy to operate.
· The slot has a padded sides and front , two-tier (Most products in the market only have one) strengthen sponge clamps to prevent falling love machine forward , effective non-slip.
· Let your phone can easily take pictures from the phone to shake the self-timer shot becomes steady beat, in the digital sector can also take high -quality photos and images.



Specification:
· Material ABS PA Material
· Camera Interface Universal 1/4 Screw
· Net Weight About 200g (without phone holder clip)
· Supported Max Weight About 0.5KG
· Front Elevation -35 degree/+35 degree
· Applicable Models Mobile phones, micro-single, digital cameras
· Length 18.5cm (without phone holder clip)
· Phone Holder
· Material Plastic+Metals+Silica
· Tensile Width 5.3-8cm
· Screw Mouth Universal 1/4 Screw Port



Contains:
· 1x YunTeng YT-228 Mini Tripod
· 1x Mobile Phone Holder Clip
· 1x Pergear Cleaning Cloth