Zhiyun Smooth Q4 Smartphone Gimbal Stabilizer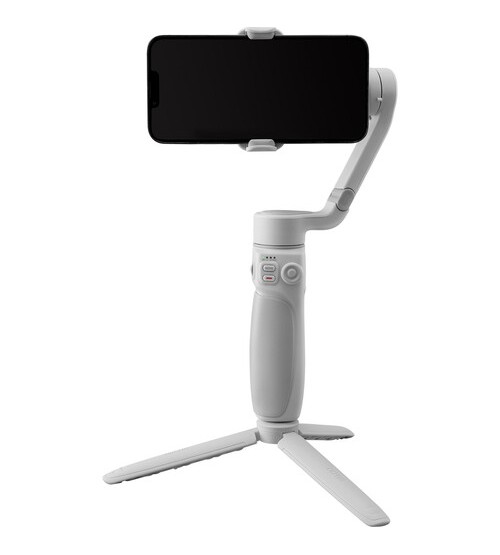 Lihat gambar lebih detail
Features
>> Compact Folding 3-Axis Stabilizer
>> Built-In Extension Rod up to 8.5"
>> Landscape & Portrait Modes
>> Livestreaming via Companion Mobile App
>> Supports Smartphones up to 9.9 oz
>> Various Templates & Gimbal Modes
>> Onboard Button Controls
>> 15-Hour Runtime
>> Tripod Accessory
>> USB Type-C Port for Charging & Firmware
Operate the Smooth-Q4 with just one hand, thanks to the improved onboard controls and comfortable handgrip. Joysticks, buttons, and wheels control functions like gimbal mode and video recording. Various indicator lights on the gimbal display the current mode or power level. A mini tripod can be attached to the bottom of the Smooth-Q4 for stabilized, hands-free setups. The built-in battery supply powers the device for up to 15 hours and a single USB Type-C input can recharge it in 2.5 hours or serve as a firmware update port.
Smartphone Compatibility
The gimbal can accommodate smartphones up to 9.9 oz and 3.5" wide.
ZY Cami Smartphone App
The app supports Android 7.0 and iOS 10.0 operating systems and above.
SmartFollow 3.0
A single tap in the companion app ensures your subject remains in the center of the frame.
Gesture Control
The gimbal can start shooting with simple hand gestures directed toward the camera.
SMART Templates and Shooting
Editing templates, background music, special effects, and other tools can enhance your video. Split-screen comparisons and BTS camera movement can show you how to best move the camera to mimic the template format.
Other Advanced Features
MagicClone Pano and Livestream Master are also available in the app's interface.
Gimbal Modes
>> Lock
>> Follow
>> Pan Follow
>> Point of View
>> Vortex
>> Onboard Controls and Indicators
>> Power button
>> Photo/Video button
>> MODE button
>> Trigger button
>> Gimbal mode indicator lights
>> Joystick
>> Control wheel