Zoom Q8n-4K Handy Video Recorder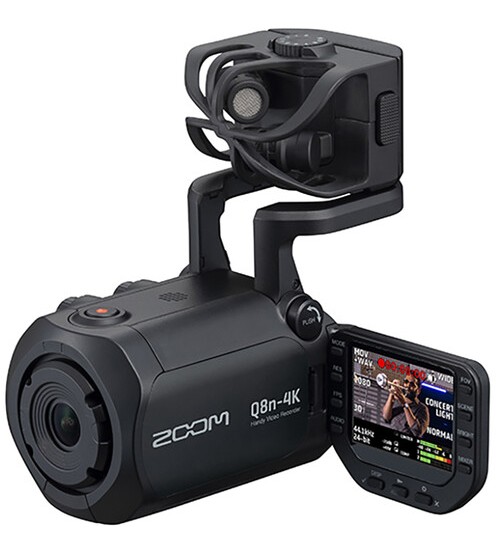 Lihat gambar lebih detail
Features
>> Records up to UHD 4K Video at 30 fps
>> Wide-Angle 150° Lens
>> Detachable X/Y Condenser Microphone
>> Compatible with Zoom Microphone Capsules
>> Dual XLR Mic/Line Inputs
>> Records up to Four Simultaneous Channels
>> Flip-Out Color LCD for Selfie Videos
>> Doubles as USB Webcam & Audio Interface
>> App Control via Optional Adapter
Q8n-4K vs Q8
Improving on the Q8, the Q8n-4K model provides multiple upgrades in form and function.
>> UHD 4K video resolution at 30 fps (2K on the Q8)
>> f/2.8 / 150° wide-angle lens (f/2.0 / 160° on the Q8)
>> Rear screen flips out for selfie-style recording
>> Redesigned operability for ease of use
>> Support for microSDXC cards up to 512GB (128GB maximum on the Q8)
>> App-based remote control from an iOS/Android mobile device (separately available Zoom BTA-1 Bluetooth adapter required)
4K When You Need It
4K is a high-demand feature that many shooters will appreciate. However, the Q8n-4K does give you the option to record at lower-resolution formats when your priority is on small file sizes. Thanks to support for microSDXC cards up to 512GB, that should be far less of a concern now than it was with the Q8.
Wide-Angle Lens
The 150° lens yields plenty of space for wide-angle action like bands bouncing around a stage or the calming grandeur of breathtaking outdoor scenery. With five field of view (FOV) settings, the Q8n-4K can also provide tighter framing when you need it.
Eye-Catching Video
Brightness adjustment and lighting presets (a.k.a. Scenes) are just a button-push away, which increases the Q8n-4K's video versatility. Whereas the Q8 had three scene presets, the Q8n-4K offers five—Indoor, Outdoor, Nighttime, Concert, and Auto—to help you get the right lighting for your environment.
Video Output Port
If you want to check your video on a monitor, simply connect the recorder's micro-HDMI output to your preferred display (appropriate cables are available separately).
High-Quality Audio Recording
The Q8n-4K gives you the same high-quality audio formats as Zoom's dedicated audio recorders. You can record in WAV format up to 24-bit, 96 kHz resolution. In addition to the tactile controls for gain and signal padding, the menu system offers access to panning, volume, low-cut filtering, and dynamics processors such as a compressor, limiter, leveler, de-esser, and noise gate. Audio can be recorded along with video or separately, enabling the Q8n-4K to function as a standalone four-channel audio recorder.
X/Y Mic Capsule
The XYQ-8n capsule features two matched unidirectional condenser elements in a 120° X/Y configuration, delivering a true stereo image without requiring separate mics and cables. It's a great built-in solution, but it can be swapped for other Zoom mic capsules (available separately) such as the VRH-8 Ambisonic mic capsule made for immersive 360° audio.
Two XLR Inputs
If you wish to bring in external signals, the Q8n-4K is happy to help. Dual XLR mic/line inputs with phantom power and a switchable -20 dB pad allow the recorder to handle professional mics (dynamic or condenser) or even the main outputs from a mixing console.
Headphone Jack
Monitoring the audio is easy; just plug your headphones into the Q8n-4K's side-panel 3.5mm headphone jack and listen to make sure the sound is clean and free of distortion.
USB Microphone/Webcam
Not only does the Q8n-4K record to microSD cards, it can alternatively function as a USB device. So, whether you need a cool webcam or a capable audio interface, the Q8n-4K is there for you.
Powering Methods
Powering this recorder won't be a problem. Considering you can use the included rechargeable Li-ion battery, power it via USB, or run it from an optional AC adapter, the Q8n-4K is ideal for anything from back-to-back shoots to long-format concerts.
Mounting Options
The 1/4"-20 thread on the bottom of the body allows the recorder to be mounted on a tripod or gimbal if handheld shooting isn't your style.
Technical
Warranty
1 Year Service & Sparepart