Ricoh WG-M2 Action Camera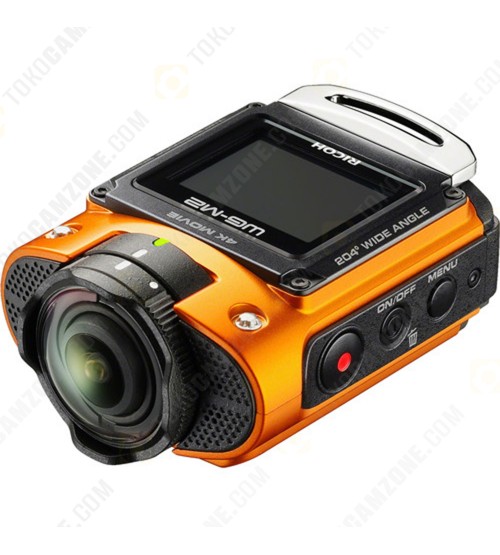 Lihat gambar lebih detail
PRODUCT HIGHLIGHTS
· UHD 4K Video at 30 fps (100 Mbps)
· 1080p at 60 fps / 720p at 120 fps
· 8MP Photos in Bursts up to 8 fps
· 204° and 151° Angle of Views
· Camera Waterproof down to 65'
· Shockproof up to 6.5'
· Freezeproof down to 14°F
· 1.5" LCD
· Wi-Fi for Remote Monitoring & Control
· Video Capture Orientation Correction
OVERVIEW
Equipped with an impressive 204° ultra-wide-angle lens and built to stand up to nature's fury, the orangeRicoh WG-M2 Action Cam is a compact, go-anywhere camera ready to capture all of the action in Ultra HD 4K quality at 30 fps. With the WG-M2, no separate camera housing is required to prepare for rough adventures, as the body is shock-resistant from drops up to 6.5', waterproof to depths of 65' for up to two hours, and operable in freezing temperatures down to 14°F. All that is needed for protection is to attach one of the two included lens protectors, with one specifically designed for underwater use.
Besides 4K, the camera's 1/2.3" CMOS sensor supports 1080p up to 60 fps and 720p up to 240 fps, with the latter ideal for creating super slow-motion effects in post. Additionally, the camera takes 8MP stills in single-shot or in burst at approximately 8 fps for 10 frames. You can choose to capture your video and photos using the entire 204° angle of view of the lens, or use a narrower (but still wide-angle) 150° angle of view. A Video Capture Orientation Correction setting is available that lets you rotate the capture image in 90° increments to help adjust for the mounting position of the camera, and help to maintain a level horizon.
Because no underwater housing is required, the WG-M2 operation is made easy by the large control buttons and 1.5" LCD monitor. It also means that clear audio can be recorded as it will be unimpeded by a housing. In addition to on-camera control and monitoring, you can also use the camera's built-in Wi-Fi to remotely monitor and control the camera from a mobile device running the Ricoh Image Sync app. For power, the camera includes a rechargeable D-LI68 type lithium-ion battery that provides around 80 minutes of continuous 4K recording.
Main Features
· Ultra HD 4K video at 30 fps (4K S.Fine mode offers 100 Mbps average bit rate)
· 1080p up to 60 fps, 720p up to 120 fps
· Ultra-wide-angle lens with 204° Wide and 151° Narrow angle of views
· 8MP photos in burst up to 8 fps for 10 frames
· Waterproof to depths of 65' for up to 2 hours
· Shockproof from drops up to 6.5'
· Freezeproof to 14°
· 1.5" LCD
· Built-in Wi-Fi for remote monitoring and control via Ricoh ImageSync App
· Records to microSD/SDHC/SDXC memory card
· Micro-USB and micro-HDMI connectivity
· Rechargeable lithium-ion battery provides 80 minutes of continuous 4K recording
· Lens protectors for dry-land and underwater use included
Additional Video Features
· Video Capture Orientation Correction - adjust image orientation in relation to camera position to maintain a level horizon without having to rotate the image in post. Select from 0, 90, 180, and 270° body orientations
· 7 Selectable video effect modes (Bright, Natural, Monochrome, Shading, Bleach Bypass, Bold Monochrome, High Contrast)
· Time-Lapse Movie mode for 30x, 60x, and 150x speed movies
· Extended Move Recording - records movie every 5/10/25 minutes as one file endlessly until recording is turned off manually (old file is deleted when memory is full)
· High Speed Movie (Fixed to Wide) - Shoots 720p video at 120 fps, but plays back in 30 fps for slow-motion (4 minutes recording limit)
· Vibration Assist function to confirm record start/stop
Technical
Warranty
Non Warranty