Sony Cyber-shot RX100 Mark VI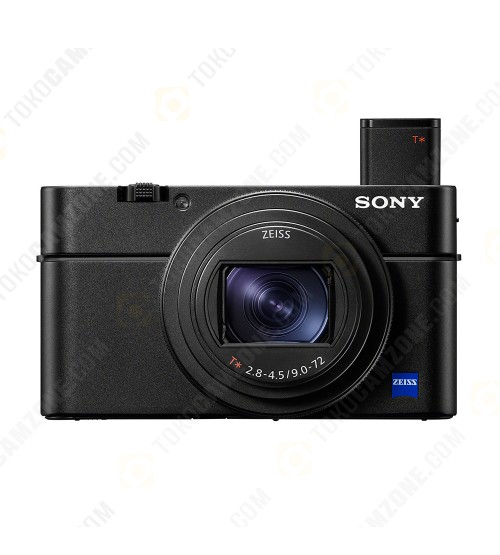 Lihat gambar lebih detail




Main Features:
Zeiss Vario-Sonnar T* 24-200mm eq. f/2.8-4.5 lens
BIONZ X processor with front-end LSI
20MP 1-inch-type Exmor RS stacked CMOS sensor with DRAM chip
0.03s Hybrid AF speed
Continuous Eye AF (2x tracking performance of RX100 V)
24fps burst with AE/AF
4K HDR video
960fps/1000fps super slow motion video
XGA OLED Tru-Finder with one-button pop-up design
3-inch touchscreen (with touch AF)
The 6th-generation RX100-series camera is here! The aptly-named Sony RX100 VI, announced today, sports a familiar, compact body but features an all-new, longer-zooming lens -- a Zeiss Vario-Sonnar T* 24-200mm f/2.8-4.5 lens -- the longest zoom lens we've so far seen in the RX100 family. Using what Sony calls "extra high-density construction," Sony engineers have been able to create a camera that keeps the same size and footprint as the RX100 V; when retracted, the lens itself is only about a half-inch thick! The camera features similar ergonomics and overall design too, including the nifty pop-up EVF and tilting LCD screen which now finally has touchscreen functionality!
As with previous RX100-series cameras, this new model is decidedly a premium model. Aimed at professional and enthusiast photographers as well as vloggers and other video creators, the RX100 VI offers numerous high-performance photo features and high-resolution 4K video specs for video shooters.
Image Quality
As for the imaging pipeline, the RX100 VI, not surprisingly, uses the same 20.1-megapixel 1-inch-type Exmor RS stacked CMOS sensor as the Mark V, which is paired with Sony's latest BIONZ X image processor and a front-end LSI. What this should get you is high-quality, detail-rich photos with good high ISO chops as well as quick, nimble performance for fast, action subjects.
When it comes to ISO sensitivity, the Mark VI is similar to the previous-generation, with a native ISO range of 125-12,800. The ISO can be extended down to ISO 80 and 100, as well as upward to ISO 25,600 with Multi-Frame NR.
A significant factor to image quality is the lens sitting in front of the sensor, and with the RX100 VI, its lens is one of the headlining new features. With the RX100 VI, the new 24-200mm-eq. optical zoom lens is the longest zoom offered in the RX100 series to date. The first two generations offered a fairly healthy 28-100mm-eq. range with an f/1.8-4.9 max aperture, while subsequent versions widened and shortened the zoom to a classic 24-70mm-eq. range with an f/1.8-2.8 max aperture. With this latest-generation model, Sony's been able to pack in a more versatile, longer zoom lens -- with an optical zoom range once relegated to Sony's bulkier RX10 and RX10 II super-zooms -- yet keep the svelte RX100 size and shape. The aperture range isn't as fast as the shorter-zooming predecessors, but instead offers a moderate f/2.8-4.5, which is quite impressive given the camera's size constraints.
When it comes to optical construction, the RX100 VI's lens includes eight aspherical elements with 13 aspherical surfaces that should help provide sharp image quality across the frame. Four "advanced aspherical" elements and two ED glass elements help combat spherical aberration and coma as well as chromatic aberration, respectively.
The lens features powerful optical image stabilization, too, which should come in very handy at telephoto focal lengths, given the lens' somewhat dim f/4.5 aperture at max telephoto. According to Sony, at 200mm, the SteadyShot system should provide up to 4-stops of stabilization.
Autofocus & Performance
As with the RX100 V, the performance packed into this tiny pocket-camera is quite impressive and based on the specs, the RX100 VI is looking to be similarly excellent when it comes to AF speeds and burst performance.
Featuring on-sensor phase-detect AF with 315 PDAF points covering around 65% of the imaging area, the RX100 VI's Hybrid AF system (which combines PDAF with contrast-detect AF) is said to be even faster than the previous RX100 at a blazing 0.03s AF speed (down from 0.05s in the Mark V). The camera also features continuous Eye AF tracking functionality, similar to what we've seen with the Sony A7 III and A9 cameras, with two times the tracking performance of the RX100 V, according to Sony.
Like the RX100 V, the new generation camera is capable of super-fast continuous burst-shooting rates. Sony claims the RX100 VI can shoot at up to 24fps with continuous AF and auto-exposure adjustments, which is the same as the RX100 V. However, Sony's beefed-up the buffer capacity now, offering up to 233 Fine JPEG frames at 24fps (up from 150 in the Mark V).
When it comes to action shooting, the RX100 VI's super-quick sensor readout capability helps it achieve very low visible rolling shutter distortion with its electronic shutter. The RX100 VI's maximum shutter speed is 1/32,000s. For quiet or sound-sensitive moments, the RX100 VI also offers a silent shooting mode.
Video
Given the popularity of the RX100 series for videographers and vloggers, it's no surprise that this latest model is packed with video features. The camera can shoot video up to 4K UHD resolution (3840 x 2160) using the XAVC S codec with full pixel readout (no pixel binning). 4K video is captured at up to 30fps (no 4K/60p, unfortunately). Continuous 4K video clip recording time is limited to just five minutes (same as on RX100 V), while Full HD recording extends to 29'59". The 4K recording limit feels a little disappointing and restrictive, given the camera's target audience of vlogging -- you can't vlog for very long if you want to shoot in 4K.
The RX100 VI also offers numerous advanced and professional-focused video features, including HDR movie recording (Hybrid Log Gamma), as well as S-Log3 and S-Log2 gamma curves for improved post-production color grading. The camera also includes Gamma Display Assist, exposure zebras, clean HDMI output, Timecode (TC/UB), Rec Control, marker functions, and proxy recording.
There's also extensive slow-motion video functionality, with 4x-40x slow-motion capture (frame rates up to 960fps, although at reduced video resolutions).
Design
Although from a glance the RX100 VI looks nearly identical to the previous generation, there are a few updates to the camera's physical design. Size and weight are similar, despite the longer zoom lens. The rear LCD features the most significant change: touchscreen functionality, a first for the RX100-series. Much like the recent touchscreens we've seen on Alpha mirrorless cameras, the RX100 VI's touchscreen works only for touch AF (moving the AF point) or using a touch-shutter feature. You can't navigate menus with the touchscreen. The rear LCD uses a standard RGB LCD panel, as opposed to the RGBW screen of the previous model, but the effective 307,200 pixel resolution is the same (921,600 dots on the RX100 VI compared to the RX100 V's 1,228,800 dot RGBW screen).
As with the previous model, the RX100 VI also offers a clever pop-up electronic viewfinder, with a 2.35-million-dot OLED display with 0.59x magnification (35mm eq.). The EVF features a ZEISS T* coating to help reduce glare and improve image clarity.
The RX100 VI also includes pop-up flash, although Sony's had to make the flash smaller and weaker than on the previous model.
When it comes to connectivity features, the Sony RX100 VI includes a similar array of wireless features as on most modern cameras. There are Wi-Fi and NFC connectivity options as well as, for the first time, Bluetooth (4.1), which allows for automatic location geotagging with a paired smart device using the PlayMemories app. With Wi-Fi/NFC and a paired smartphone, you can wireless transfer images and videos as well as remotely control the camera. The RX100 VI also supported tethered shooting using Sony's Imaging Edge desktop software, allowing you to remotely control the camera, see a live-view of the screen on your PC as well as edit/develop RAW files.
Technical
Pixel
20 Megapixel
Sensor Type
CMOS
Display Size
3"
Warranty
1 Year Service & Sparepart