Sony PMW-F5 CineAlta Professional 4K Digital Cinema Camera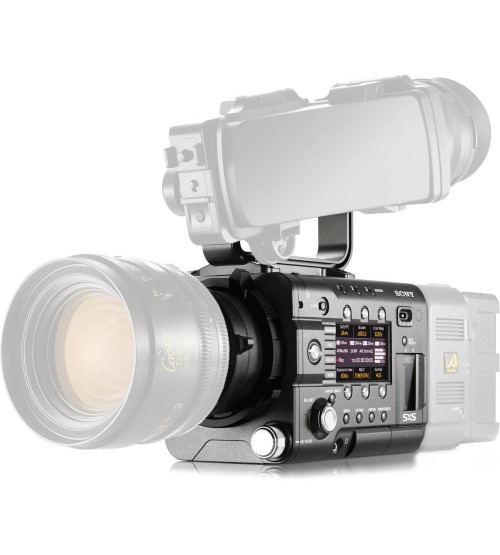 Lihat gambar lebih detail
Product Description
The Sony PMW-F5 CineAlta Digital Cinema Camera features an 8.9 MP Super 35mm image sensor capable of capturing 2K and HD internally in Sony's XAVC codec onto SxS PRO+ memory cards, and 4K and 2K RAW to an optional Sony AXS-R5 external recorder. It features 14 stops of dynamic range, applicable to both RAW and XAVC recording as long as S-Log is turned on, for truly film-like rendering of highlights and shadows. The camera natively features an FZ mount and includes a PL-mount adapter.

Out of the box, the F5 records 2K and HD in up to 59.94p in XAVC. With firmware update 2.0, already available, it will be able to record 4K RAW/24p and 2K RAW/120p/180p/240p to an AXS-R5 recorder, and 1080p 4:2:2 at up to 120fps internally in XAVC. With firmware update 3.0, due for release shortly, recording capability will increase to 4K RAW 1p to 60p externally, 2K RAW 1p to 240p externally, and 1080p 4:2:2 1fps to 180fps internally in XAVC. All RAW recording is 16-bit. Additional firmware upgrades will enable the SR Codec for 10-bit 4:4:4 at up to 440 Mbps.
Additional Features Provided by Firmware Update 2.0
2K RAW/HD simultaneous REC
User Gamma
HFR Full Scan Mode no Windowing
Rotary Dial enabled for audio level adjustment on sub display
Fujinon Cabrio lens support, IRIS control from RM controller and REC trigger on lens
Simultaneous output from SDI (four outputs total)
Waveform and Histogram support
SxS REC review
Support for mount adapter LA-FZB1/FZB2
Additional Features Provided by Firmware Update 3.0
User Monitor LUT created by RAW Viewer
AXS REC Review via SDI output
HFR Center Scan mode
Center Scan mode for S16mm lens
Interval recording
AES/EBU audio input
Preset Sony Look profile
User definable clip naming
Embedded Clip name meta on SDI Output
Highly Modular Design
In addition to the AXS-R5 recorder, a digital interface on the F5 allows for a variety of optional viewfinders. DVF-EL100 is a 0.7" OLED viewfinder with 1280 x 720 resolution. DVF-L350 is a 3.5" LCD viewfinder with 960 x 540 resolution, and the eyepiece flips up for direct monitoring. DVF-L700 is a 7" LCD viewfinder with 1920 x 1080 resolution for monitoring Full HD pixel-for-pixel. Other modular components include the optional Sony shoulder rig, which features industry-standard rosettes on both sides for quick and easy attachment of third-party hand grips and other accessories.
Optional AXS-R5 "Bolt-on" Recorder
The optional AXS-R5 recorder is designed to dock on the rear of the PMW-F5 and enables 4K and 2K resolution video recording in 16-bit RAW. The AXS-R5 also facilitates high speed frame rates of up to 120 fps in 2K RAW and simultaneous RAW + on-board SxS recording. The recorder uses Sony's newly developed AXSM memory cards, which are compatible with an optional USB 3.0 reader (AXS-CR1). RAW files can be screened using Sony's free RAW Viewer software. (AXS-R5 is sold separately.)
Native FZ-Mount and PL-Mount Adapter
The F5 is designed to accommodate a wide range of lenses. With the PL-mount adaptor, you can take advantage of acclaimed cine optics from Angénieux, Canon, Carl Zeiss, Cooke, FUJIFILM, Leica and more. Slip off the supplied PL-mount adaptor to reveal the native FZ-mount with an 18mm flange focal distance. The FZ-mount provides an interface for native FZ lenses like Sony's SCL-Z18X140 auto focus servo zoom lens or a range of adaptors for still lenses, including Canon EF, Canon FD, Nikon F, Leica M and more.
Dynamic Range Rated at 14 Stops
The ability to render a range of exposure values from deepest shadows to brightest highlights is a crucial test of any digital camera. The F5 is capable of an impressive 14 stops of exposure latitude, low-light sensitivity and low noise in the blacks. The digital sensor's dynamic range approaches that of traditional motion picture film.
Long-life Olivine Battery and Quick Charger
The F5 supports Sony's BP-FL75 battery pack, which uses Olivine Lithium Iron Phosphate instead of conventional Lithium Ion cathodes. The result is a substantial increase in charge-discharge cycles, compared to previous Sony batteries. The Olivine battery works with Sony's BC-L90 quick charger. The camera is also compatible with Sony's BP-GL95A, GL65A, L80S and L60S batteries, which use the BC-L70 and L160 chargers.
Intuitive One-touch Interface
Designed with significant input from cinematographers, the F5 features an intuitive interface for a range of controls. Instead of diving through menus, you get direct, one-touch access to key shooting parameters including frame rate, shutter speed, color temperature, ISO sensitivity and gamma. Assignable buttons mean that your favorite adjustments are always at your fingertips.
Wide Choice of Connections
The F5 offers numerous connections to suit your workflow, including four HD-SDI jacks, HDMI, USB, DC in connection, a removable XLR audio module and a removable time code/genlock module. The XLR inputs accept balanced analogue signals, provide 48-Volt phantom power and will accept four channels of AES/EBU digital audio with an expected firmware upgrade.


Product Specifications
Sensor
Sensor Type
Super 35mm equivalent single-chip CMOS
Pixels
Total: 11.6 MP
Effective: 8.9 MP
Sensitivity
Luminance: 2000 lx, 89.9% reflectance
Video Gamma: T13 @24p (3200K light source)
S-Log2 Gamma: ISO 2000 (D55 light source)
Dynamic Range
14 stops
Signal to Noise Ratio
57dB (Video Gamma, 24p, Noise Suppression OFF)
Recording
Video Recording Format
MPEG-2 Long GOP
HD 422 mode: CBR, 50 Mbps max, MPEG-2 422P@HL
Audio Recording Format
Linear PCM (2 ch, 24-bit, 48-kHz)
Recording Modes
XAVC 2K: 2048 x 1920 at 23.98p, 24p, 25p, 29.97p, 50p, 59.94p
XAVC HD: 1920 x 1080 at 23.98p, 25p, 29.97p, 50p, 59.94p
MPEG4 SStP: 1920 x 1080 at 23.98p, 24p, 25p, 29.97p
MPEG2 HD: 1920 x 1080 at 50i, 59.94i, 23.98p, 25p, 29.97p
MPEG2 HD: 1280 x 720 at 50p, 59.94p
With firmware update 2.0 (already available) installed:
4K RAW/24p, 16-bit, to an optional AXS-R5 external recorder
2K RAW/120p/180p/240p, 16-bit, to AXS-R5
1080p 4:2:2 at up to 120fps internally in XAVC
With firmware update 3.0 (due for release shortly) installed:
4K RAW 1p to 60p, 16-bit, to an optional AXS-R5 external recorder
2K RAW 1p to 240p, 16-bit, to AXS-R5
1080p 4:2:2 1fps to 180fps internally in XAVC
Shutter Speed
1/24s to 1/6,000s
Shutter Angle
4.2 - 360°(electrical shutter)
Slow Shutter
2, 3, 4, 5, 6, 7, and 8 frame accumulation
Slow & Quick Motion Function

XAVC HD/2K: 1-100p (PAL) at 25p




White Balance
Preset (3200K, 4300K, 5500K), Memory, ATW
Gain
-3, 0, 3, 6, 9, 12, 18 dB, AGC
Gamma Curve
Standard (x6)
HG1, HG2, HG3, HG4, HG7 and HG8
S-Log2 Gamma
Interface
Memory Cards
SxS (x2, ExpressCard 34 slots)
SD card slot (x1)
Video Output
HD-Y or HD Sync (tri-level) V1.0
Analog Composite (VUP)
HD-SDI Output
SDI 1/2 Line Output, SDI 3/4 Monitor Output (character on/off)
Timecode
TC IN/OUT switchable (x1)
Genlock
BNC input (x1)
HDMI
A Type output (x1)
Audio
Input: XLR-type 3-pin with Line/Mic/Mic +48V/AES/EBU selectable (x2, female)
Output: phono jack (CH-1, CH-2)
Headphone: Stereo mini jack (x1)
Speaker: monaural
USB
USB device, Mini-B (x1)
USB host, type-A (x1)
Wi-Fi
USB host, type-A (x1)
Shutter
BNC (x1)
DC Output
4-pin (x1), 11 V to 17 V DC (MAX 2.0A) w/ battery adapter
Remote
8-pin (x1)
General
Lens Mount
FZ-mount, PL-mount (with supplied adapter)
Built-in Filters
Clear, 0.9 (1/8 ND), 1.8 (1/64 ND)
Power Requirements
DC 12 V (11 V to 17.0 V)
Power Consumption
Approx .24 W (while recording XAVC HD 60p, EVF Off, LCD monitor Off, HD-SDI On)
Battery Operating Time
With BP-FL75: approximately 160 minutes
With BP-GL95A: approximately 230 minutes

Technical
Pixel
11.6 MP
Video Resolution
1920 x 1080
Display Size
3.5"
Memory Card Type
SD / SxS (x2, ExpressCard 34 slots)
Battery
BP-FL75 , BP-GL95A
Warranty
Sony Indonesia