Sony SAL 24-70mm f/2.8 ZA SSM Carl Zeiss Vario-Sonnar T*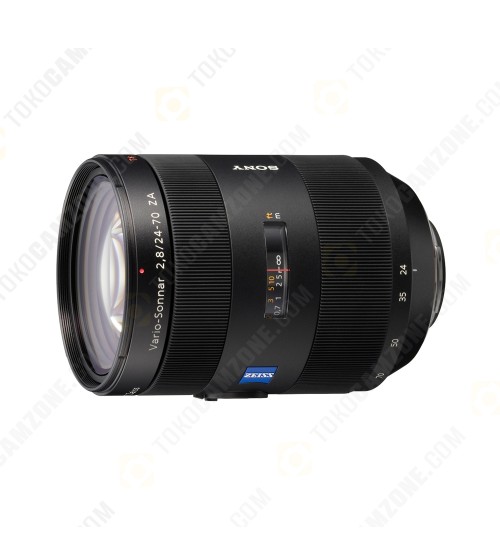 Lihat gambar lebih detail
Enhance your photos with pro-quality close-ups and tight detail shots with this compact Carl Zeiss® Vario-Sonnar® T* 24-70mm f2.8 zoom lens featuring quick and silent auto focusing and reduced lens flare.
Compact Design, All-Around Versatility
This superb 24-70mm zoom lens is an excellent choice for a wide range of photo applications -- a lens you can put on and leave on, providing large-aperture brightness that's easy to carry (35mm equivalent: 36-105mm).
Superior Large-Aperture Performance
Like other large-aperture Carl Zeiss® lens designs, this f2.8 24-70mm zoom lens is simply magnificent in its ability to capture brilliant high-resolution images in low-light conditions requiring fully open aperture.
In-Camera Image Stabilization
A major reason for its compact, lightweight design is the benefit of Super SteadyShot® in-camera image stabilization, built into every Sony á system DSLR -- and enabling accessory lenses to eliminate the extra weight and expense of in-lens stabilization mechanisms.
SSM (Super Sonic wave Motor)
Designed for fast, smooth, silent automatic focusing, this unique technology achieves high torque at low speed with rapid start/stop response. It operates through the ability of a piezoelectric device to reshape itself quickly when voltage is applied.
Carl Zeiss® T* Coating
Coated optics were pioneered by Carl Zeiss® -- and this superb lens features T* (T-Star) coating that virtually eliminates the lens flare, internal reflection and light scattering that can otherwise occur at glass-to-air surfaces.
Multi-Element Design
The SAL-2470Z is designed with 17 lens elements in 13 groups, including 2 aspherical elements and 2 ED glass elements. Floating motion between the third and fourth groups of lens elements helps compensate for any aberrations caused by the zooming action of the lens.
Glass-Molded Aspherical Lens Elements
These precision lens elements correct distortion for sharper, more visually accurate images across the entire zoom range of the lens.
ED (Extra-low Dispersion) Glass
Because light of different wavelength (or color) bends at different angles when it passes through a lens, ED (Extra-low Dispersion) Glass is used in Carl Zeiss® lenses to eliminate chromatic aberration by correcting certain wavelengths of light for sharp, clear images with well defined colors.
Technical
Warranty
Sony Indonesia