Sony SF-M 64GB 150MB/S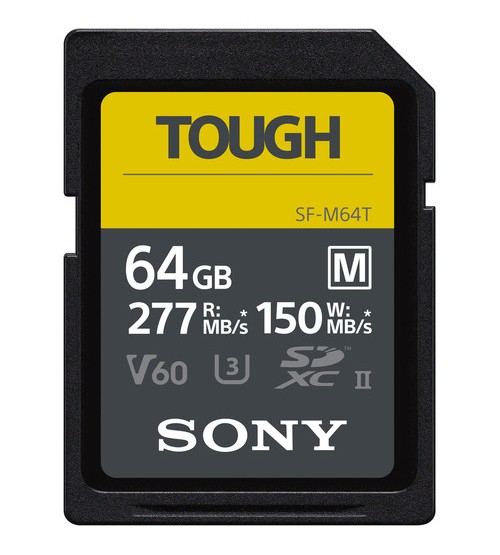 Lihat gambar lebih detail
Features
>> 64GB Storage Capacity
>> UHS-II / V60 / U3 / Class 10
>> Max Read Speed: 277 MB/s
>> Max Write Speed: 150 MB/s
>> Min Write Speed: 60 MB/s
>> Records 4K, Full HD, and 3D Video
>> Water / Dust / Drop / Bend Proof
>> 180N Strength Rating
>> No Built-In Write-Protect Switch
>> Downloadable File Rescue Software
General Features
Tough SD Card
When you're shooting in challenging environments, this card will deliver for a wide range of professional photographers and videographers, as well as photo enthusiasts, since they're rugged enough for extreme shoots. With rock solid reliability and fast speeds, you have all the performance you need to catch the action.
More Bending Resistance
A strong resin-molded design makes this cards 18 times more resistant to bending than the SD standard.
IP68 Waterproof and Dustproof
This card can be immersed in 16.4' of water for up to 72 hours, and is also dustproof. That's total protection for shooting in almost any condition.
Shock Resistant - Withstands Drops up to 16.4'
Made from rock-solid materials in a one-piece mold, this card withstands drops of up to 16.4'
One-Piece Molded Design
With a one-piece molded design and high-durability materials, this card gives professionals and photo enthusiasts peace of mind and protection wherever their shoots take them.
Ribless, Write Protect Switchless Design
In designing this card, Sony got rid of the fragile connector ribs and write-protect switch found on conventional SD cards - parts which are easy to break and can prevent writing.
Speed You Can Rely On
Whether you're a professional photographer shooting high-resolution still images, a videographer working in 4K on a documentary, or a photo enthusiast exploring remote landscapes, this card has the speed you need to capture the action. It provides fast buffer clearing time after burst shooting and efficiently transfers content to a computer.
Rapid Write Speeds
With fast write speeds of up to 150 MB/s, this card supports longer burst shooting of high-resolution photos, as well as faster buffer memory clearing.
Fast Backup and Data Transfer
Spend more time shooting and less time transferring or backing up. With fast read speeds up to 277 MB/s, you can quickly transfer large media files to a computer.
Optimized for High-Resolution Video with V60
Sony's SF-M media supports the V60 Video Speed Class for stable 4K recordings and high-bitrate video capture. This is good for shooting all kinds of high-resolution video.
SD Scan Utility
The downloadable SD Scan Utility automatically scans your SD card's memory, keeping you informed of its condition so you can take action before its limit is reached.
File Rescue
Even when things go wrong, you can avoid disaster with downloadable File Rescue software that recovers photo and video files that have been accidentally deleted or that cannot be played back.