Aputure Amaran AL-MC LED Light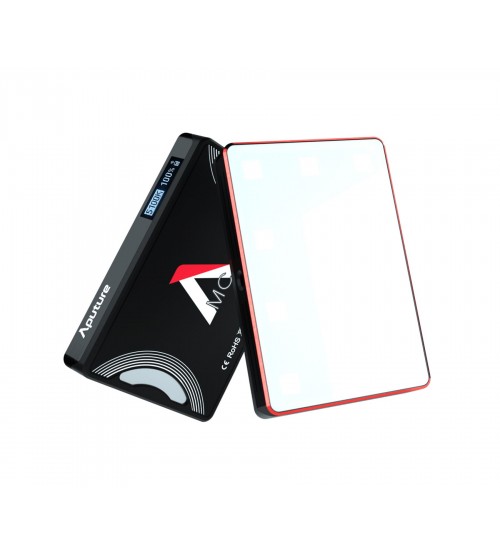 Lihat gambar lebih detail
The MC is Aputure's first light to include full Hue, Saturation, & Intensity (HSI) color control. With 360° of hue and 100 levels of saturation adjustment, you have the power to conveniently reproduce any color, all in the palm of your hand.
As with all Aputure lights, the MC prides itself in its color rendition, with CRI and TLCI scores of 96+, and SSI scores of 84 in tungsten and 74 in daylight. This is all accomplished by an underlying technology that reproduces color better and more accurately than ever before: RGBWW.
Unlike traditional RGB, the Aputure MC isn't just a light that relies on Red, Green, and Blue LEDs. By adding two additional white LEDs — one balanced at tungsten and a second at daylight — the Aputure MC is an impossibly small light that competes with industry giants.
HSI/CCT/FX Lighting Modes
The Aputure MC allows you to be more flexible in your filmmaking, providing you with multiple lighting modes to suit your needs. In addition to HSI Color Mode, the MC allows you to adjust your white light with CCT Mode, or use built-in lighting effects with FX Mode.
The MC is Aputure's first mini LED that offers fine CCT control. You can accurately choose any color temperature in the MC's expanded bi-color range between 3200K-6500K, in increments of 100K, allowing you to adapt to any situation.
6500k
Technical
Warranty
Non Warranty