Aputure Trigmaster Plus TX1C Remote Trigger and Receiver for Canon EOS 500D/1000D/450D/400D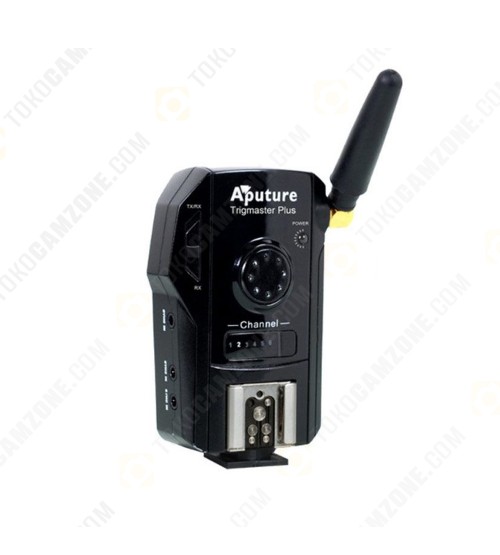 Lihat gambar lebih detail
This Aputure Trigmaster Plus TX1C is used for Canon EOS 1100D 600D 60D 550D, which features transmitter and receiver system built into one pocket-size unit. The Interlink triggering mode enables one Trigmaster Plus to receive and transmit signals at the same time. Users can remotely trigger their camera, while camera then relays signal to remote flashes, enabling the whole system to work simultaneously.
Features:
Transmitter and Receiver built-in-one
Auto-Sensing Technology
Interlink Triggering Mode
Strobe, Speedlight, and Camera all controllable
Ultra-fast microchips enable sync speeds of 1/250sec
Reliable, long range and speedy
Type: 2.4G radio system
Channel: 6 different channels
Power Supply: 1.5V AAA battery x 2 (not included)
Transmitter distance: 100 meters (any angle for triggering both camera shutter and flash)
Compatible with:
Canon EOS 1100D(T3i), 600D(T2i), 60D, 550D(Digital Rebel T2i), 500D (Digital Rebel T1i), 1000D (Digital Rebel XS), 450D (Digital Rebel XSi), 400D (Digital Rebel XTi), 350D (Digital Rebel XT), 300D (Digital Rebel)
Canon EOS 30, 33, 50, 50E, 300V, 300, 3000
Canon Powershot G10, G11, G12
Contax N Digital, NX, N1, 645
Samsung GX 1L, GX 1S, GX-10
Remote Control Camera - Wired or Wireless
The wired control function needs only one unit, and the wireless remote need two or more Trigmaster Plus units (with remote cable which included in the package).
Technical
Warranty
Non Warranty