Arri Alexa LF Basic Camera Set (LPL)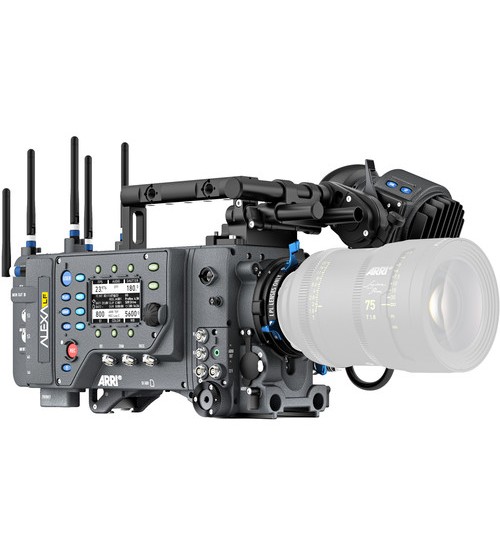 Lihat gambar lebih detail
Large-Format 4448 x 3096 Sensor
Native 4K Recording in ARRIRAW & ProRes
Large-Format Optimized LPL Lens Mount
Open Gate, 16:9 & 2.39:1 Anamorphic Mode
Native 800 ASA, 14+ Stops Dynamic Range
Array of ARRIRAW & ProRes Capture Modes
Same Wireless Features as ALEXA SXT W
Includes WVR-1 Wireless Video Receiver
Works with Existing ALEXA Components
Internal ND Filter Holder
Built around a large-format 4K version of the original ALEXA sensor, the ARRI ALEXA LF (LPL) camera in this Basic Camera Set offers native 4K recording in three sensor modes, with ARRIRAW or ProRes recording in LF Open Gate, LF 16:9, or LF 2.39:1 modes. The ALEXA LF combines large-format resolution with an optimal pixel size for excellent image quality, producing vivid, nuanced images with natural skin tones and smooth bokeh. The ALEXA LF is designed with ARRI's LPL lens mount that has been optimized for large-format capture, and is compatible with all PL-mount lenses with the use of a PL-to-LPL adapter. A wider diameter, and shorter flange focal depth than the original ARRI PL mount, enable LPL-mount lenses to be smaller and lighter than earlier large-format optics.
The ALEXA SXT LF offers an array of recording format choices in ARRIRAW and ProRes, recording to 1 or 2TB SXR capture drives, or SxS PRO+ 256GB cards. With a base sensitivity of EI 800, 16-bit processing, and a dynamic range of 14-plus stops, your footage is effectively future-proofed for compatibility with HDR displays. Frame rates up to 150 fps produce smooth slow motion and enable capture for higher-clarity HFR (High Frame Rate) projects.
The wireless connectivity of the ALEXA SXT W is built into the ALEXA LF, providing Wi-Fi and compatibility with ARRI ECS lens/camera control systems. One WVR-1 receiver is included in this basic kit, offering wireless video transmission in a range up to 2000'. An internal filter holder can be used to insert one of eight Large Format Full Spectrum Neutral Density (LF FSND) filters (available separately). Additional ALEXA LF features include compatibility with existing ARRI Look files and workflow, clip playback in both ARRIRAW or ProRes, and 2-channel, 5-pin XLR audio input. This basic ALEXA LF set also includes SXR and SxS media adapters, the EVF-1 electronic viewfinder with a VMB-3 mounting bracket and cable, the CCH-1 center carrying handle, and an SD card for storing/loading LUTs, SUPs, etc.
Large Full-Frame Sensor with Three Operating Modes
Like the entire ALEXA line, the ALEXA LF combines high-resolution with an optimal pixel size for excellent image quality. The ALEXA LF offers a choice of recording in 4448 x 3096 Open Gate, 3840 x 2160 16:9, and 4448 x 1856 2.39:1 anamorphic.