Blackmagic Design ATEM Microphone Converter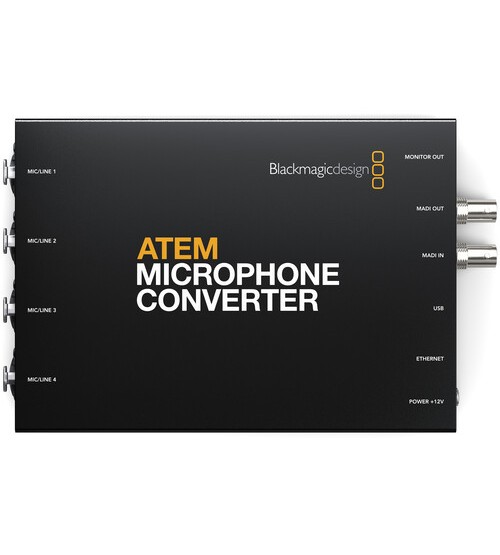 Lihat gambar lebih detail
Features
>> Audio Inputs for ATEM Television Studio
>> Connects to Switcher via MADI
>> 4 XLR-1/4" Combo Mic/Line Inputs, +48V
>> 32-Bit Float Digital Preamps
>> 8 ADCs/Channel, 24-Bit / 48 kHz Audio
>> Easy-to-Use, No Setup Required
>> 64-Channel MADI Digital Audio I/O Ports
>> HDMI Monitor Out
>> USB-C and Ethernet Ports
>> Works with ATEM Software Control App
Digital Preamplifier Design
>> With the four, wide-dynamic-range inputs that eliminate the need for analog preamplifiers, microphone levels are adjusted by a digital preamplifier gain stage that is extremely stable.
>> The analog audio levels of different microphone types and brands can vary widely, so this digital gain stage allows compensation for the specific brand of microphone you use. Best of all, the digital preamplifier is processed in the full internal 32-bit float RAW audio bit depth, so you're adjusting with much greater precision than the MADI audio standard can support. This results in an extremely clean and noise-free gain stage. Then, the final levels can be finessed on the ATEM audio mixer as you work.


High-End Analog-to-Digital Conversion
>> The ATEM Microphone Converter steps outside conventional audio industry design practice of using an individual audio ADC, as each input implements analog-to-digital conversion using eight high-dynamic-range audio ADCs that function collectively as one ultrahigh-dynamic-range audio ADC. This means each input channel delivers an impressive 131 dBA of dynamic range. Plus you get a remarkably low distortion of only 0.002%.


Extremely Low -129 dBV Noise Floor
>> A common problem with mic converters is the higher noise floor where electrical noise is generated in the preamplifiers. The ATEM Microphone Converter eliminates this problem by using a very different design. The input is converted directly using its ultrahigh-dynamic-range conversion, so you pass RAW audio to the switcher, and then let the switcher apply as much gain as required for the correct audio level.
>> This means you don't get an injection of noise caused by an analog gain stage, so you get an extremely low, fixed noise floor of -129 dBV, regardless of digital gain applied.


Precisely Matched Analog Inputs
The ATEM Microphone Converter features extremely precise matching between the four audio-input channels. The multi-ADC-per-input design technique means that each analog audio input has very similar specifications and tolerances, so all input channels are statistically more uniform. This means you get similar performance no matter what input you connect the microphone to—and even between multiple ATEM Microphone Converters.


Connects via MADI for Multichannel Audio
>> The ATEM Microphone Converter's MADI output embeds the four analog inputs as MADI channels 1, 2, 3, and 4. The converter also includes a MADI input, which is used to loop multiple converters when you need more than four channels of audio on a single MADI link.
>> This means if a second converter is connected to the input of another, the upstream converter will stack its four channels above the four channels on the downstream converter.


HDMI Monitoring with Scrolling Audio Waveforms
>> The ATEM Microphone Converter also includes an HDMI video monitoring output, so you can connect a simple TV or computer monitor for a full status display. It enables you to display four scrolling waveforms over the last 60 seconds of recording time, which is informative to watch. There are also audio meters to show the levels at the input connectors. Each channel also includes a custom label set via the software utility.
>> There are also indicators to show the switch settings for mic-/line-input selection and phantom power. Plus if you daisy-chain converters, the monitoring output will adapt and display more than four channels. You can even set a converter name that will be displayed on the monitoring.