Blackmagic Design ATEM Studio Converter 2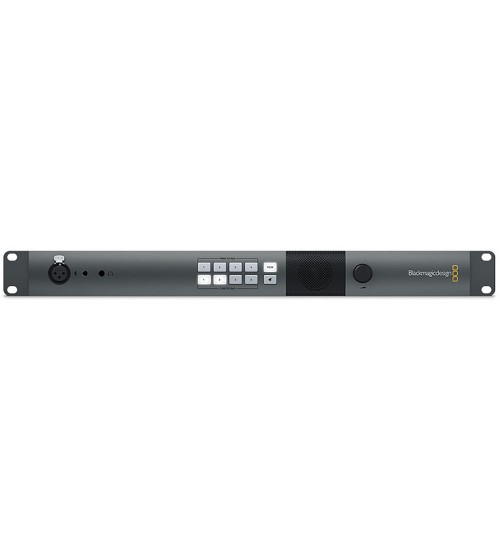 Lihat gambar lebih detail
The
Blackmagic Design Studio Converter 2
inputs SDI video signals transmitted over optical fiber and converts the signals to SDI for use with video switchers. When used in conjunction with the Blackmagic Design ATEM Camera Converter, you can send video signals up to 28 miles between camera and switcher using available optical fiber cables. By comparison sending an HD-SDI signal over traditional copper cable is usually limited to about 300 feet, depending on the quality of the cable.
A typical set up using the Studio Converter 2 is to connect it between the switcher and up to four ATEM Camera Converter units. This set up allows the Converter 2 to receive the signals from the fiber cable, convert the signals to SDI using 10-bit processing, and send the signals to the switcher. The Converter 2 supports SD/HD signals, and when using the available ATEM Camera Converter you can use any camera with an SDI/HDMI output.
The converter 2 can also be used as 4 independent simultaneous bi-directional SD/HD-SDI to optical converters. The converter 2 features a built-in mic input, speaker and headphone jack that provides talkback audio for communicating with camera operators. The Converter 2 passes tally signals embedded in the SDI program stream. You can cascade multiple ATEM Studio Converter 2 units together when using more than 4 cameras. The Studio Converter 2 features a 1RU design with built in rack mount ears for easy integration into existing studio configurations or production cases.
Optical Fiber Connectors
The ATEM Studio Converter 2 uses standard single mode optical fiber cable with standard LC connectors to allow you to transmit SD and HD video signals up to 28 miles away. Standard copper wire SDI cables have a limit of several hundred feet before the signal breaks up, converting the SDI signal to optical, and sending it along optical cable greatly increases the distance of your cable runs.
Talkback and Tally
The unit features a built-in speaker and mic inputs, as well as a headphone jack for when you need privacy, or the area is too loud. When connected to the ATEM Camera Converter, you can talk to your camera operators no matter how far away they are, without needing to worry about walkie talkies. Using the talkback feature, the unit uses audio channels 15 and 16 of the SDI stream for talkback communication.

Camera operators can be selected individually if desired, and communication can be controlled by a push button, or locked open. Mute and un-mute buttons on the front of the unit allows you to control who hears what.

The unit passes SDI Tally signal information back to the cameras along with any SDI Program signal from available switchers.
Multiple Units
Each ATEM Studio Converter 2 connects to up to four ATEM Camera Converter units, allowing you to communicate with up to four camera operators at a time. Multiple Studio Converter 2 units can be cascaded together when more than 4 cameras are needed.
Precision Signal Processing
The unit features chips that use 10-bit processing, and are switchable between SD and HD, for a clean signal.

The unit features four independent simultaneous SDI to optical and optical to SDI converters

When used in conjunction with the ATEM Camera Converter the unit can also be used as four independent SDI or Fiber to HDMI converters
Technical
Warranty
Non Warranty