Blackmagic Design ATEM Television Studio HD8 ISO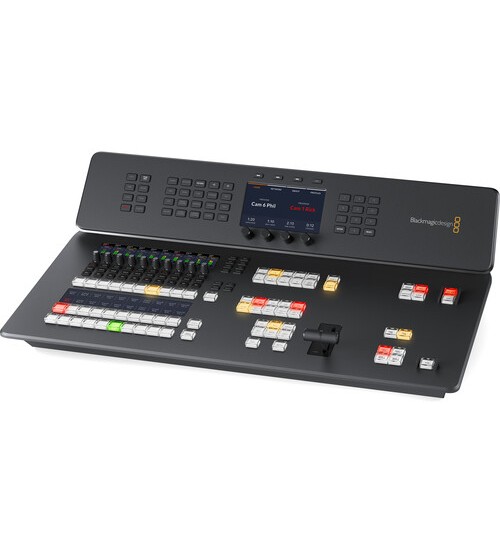 Lihat gambar lebih detail
Features
>> 8-Input 3G-SDI 1080p60 Live Switcher
>> Redesigned Buttons and Layout
>> Record Each Input to Separate Files
>> Supports Remote Internet Cameras
>> Streaming Support, USB & M.2 Recording
>> Blackmagic Cloud Integration
>> Up to 16 Multiview Output Sources
>> Audio Mixing, Transitions, T-Bar, AUX
>> Customizable Electronic LCDs
>> Camera Control, Timecode, Talkback
Live Production
You get an incredibly powerful 8-input switcher with both program and two aux outputs, so you have everything you need for mobile production. That means you can connect up to 8 cameras. Plus you get professional camera control, talkback, and audio mixing, all designed into a familiar broadcast panel.
Postproduction
The ISO model records all inputs into separate files, so you can edit using any NLE that supports multicam. That's possible because all files have perfect timecode sync. Plus with built-in network storage, you can edit while recording. Multiple users can even share media and collaborate.
Distribution
With a built-in hardware streaming engine, you can live stream your event to a global audience. Recording to H.264 files with AAC audio means you get the correct format to upload to YouTube. Plus, you share live broadcasts with your audience by using the aux outputs and large screens and projectors.
Production Switcher Control
You get an advanced broadcast-grade switcher, with built-in ATEM Advanced Chroma Keyers, Fairlight audio mixer, DVE, still store for graphics, and more. Most of the features can be operated from the front panel, or you can use the free ATEM Software Control on macOS or Windows to access even more features.
Easy Setup and Usage
Simply press any of the program row buttons on the front panel to cut between video sources. Or you can pre select a source on the preview row and then choose between cut or effect transitions by selecting the cut or auto buttons. You can select from exciting transitions such as dissolve, or more dramatic effects such as dip to color, DVE squeeze, and DVE push. You can even add a DVE for picture-in-picture effects with customized graphics. There are also media players, which let you store graphics with alpha channels for titles and graphics that you can load as live video inputs. Then you can live stream the results.
Redesigned Front Panel
The front panel includes buttons for selecting sources, triggering transitions, and setting up video effects. Plus the buttons are the same high-end type used on expensive broadcast switchers. You also get a built-in T-bar for manual transition control. The front panel even has an innovative audio mixer control area with live metering on a dedicated LCD. There are also buttons for recording and streaming control, plus live aux switching that lets you change aux outputs between all 8 cameras, program, preview, or the multiview.
Connect 5G or 4G Phones for Mobile Data
If you're doing live production on location, then the ATEM Television Studio HD supports mobile data by connecting an Apple or Android phone to the USB port. It's also a great backup for the main Ethernet connection. Phone tethering works with the latest high-speed 5G phones plus the more common 4G phones.
The ATEM switcher will detect when a phone is connected and automatically switch its internet connection to use it if the Ethernet connection is lost. When connected, the phone will also power from the USB port, so it always remains charged and ready to go. By using phone tethering and mobile data, you get the perfect mobile production solution that can be transported anywhere.
Edit Live Production with Separate ISO Recordings
The ATEM Television Studio HD ISO model allows you to edit your live event as it can record all inputs to separate video files. You get 8 separate video input files with matching timecode and sync, plus the program video is also recorded into a separate master video file. This means you can edit using any NLE software that supports multi-cam editing.
A DaVinci Resolve Project file is saved and linked to the input video files, so your live switching is converted into an edit timeline that you simply click to open. Now it's easy to re-edit your show with new color grades and even updated graphics. Plus all audio is recorded into separate WAV files, so you can professionally remix your audio.
Connect to Remote Internet Cameras
Another exciting feature on the ATEM Television Studio HD ISO model is that it can connect to remote cameras. The Blackmagic URSA Broadcast G2, Blackmagic Studio Camera 4K Pro G2, and Blackmagic Studio Camera 6K Pro cameras can live stream in H.264 direct to the switcher. If you're connected to the local network, then simply select the camera in the input menu.
However, if the switcher is set to a fixed external IP address, then you can export an XML file with the camera settings to live stream from anywhere on the internet. Simply load the XML file into the camera. Plus you even get camera control and tally. Program audio is also sent back to the camera, which is great for live interviews.