Blackmagic Design ATEM Television Studio HD8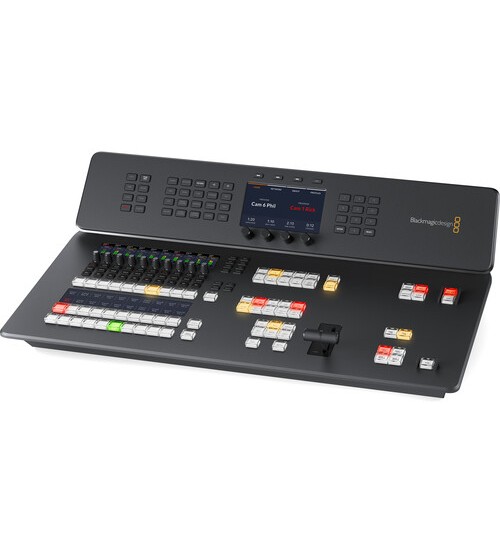 Lihat gambar lebih detail
Features
>> 8-Input 3G-SDI 1080p60 Live Switcher
>> Redesigned Buttons and Layout
>> Streaming Support, USB & M.2 Recording
>> Blackmagic Cloud Integration
>> Webcam Support, Runs Blackmagic OS
>> Up to 16 Multiview Output Sources
>> Audio Mixing, Transitions, T-Bar, AUX
>> Customizable Electronic LCDs
>> Studio Camera Control
>> Timecode, MADI, Talkback
The HD8 features built-in live streaming, and it can connect to the Blackmagic Cloud to share your program for a smooth remote workflow. It also features redundant Ethernet and power to keep your production going if one connection is lost. Two USB-C connectors are available for use as either a webcam, when connected to a computer, or you can utilize an external disk for recording your program.
Live Production
You get an incredibly powerful 8-input switcher with both program and two aux outputs, so you have everything you need for mobile production. That means you can connect up to 8 cameras. Plus you get professional camera control, talkback, and audio mixing, all designed into a familiar broadcast panel.
Distribution
With a built-in hardware streaming engine, you can live stream your event to a global audience. Recording to H.264 files with AAC audio means you get the correct format to upload to YouTube. Plus, you share live broadcasts with your audience by using the aux outputs and large screens and projectors.
Production Switcher Control
You get an advanced broadcast-grade switcher, with built-in ATEM Advanced Chroma Keyers, Fairlight audio mixer, DVE, still store for graphics, and more. Most of the features can be operated from the front panel, or you can use the free ATEM Software Control on macOS or Windows to access even more features.
Easy Setup and Usage
Simply press any of the program row buttons on the front panel to cut between video sources. Or you can pre-select a source on the preview row and then choose between cut or effect transitions by selecting the cut or auto buttons. You can select from exciting transitions, such as dissolve, or more dramatic effects, such as dip to color, DVE squeeze, and DVE push. You can even add a DVE for picture-in-picture effects with customized graphics. There are also media players, which let you store graphics with alpha channels for titles and graphics that you can load as live video inputs. Then you can live stream the results.
Redesigned Front Panel
The front panel includes buttons for selecting sources, triggering transitions, and setting up video effects. Plus the buttons are the same high-end type used on expensive broadcast switchers. You also get a built-in T-bar for manual transition control. The front panel even has an innovative audio mixer-control area with live metering on a dedicated LCD. There are also buttons for recording and streaming control, plus live aux switching that lets you change aux outputs between all 8 cameras, program, preview, or the multiview.
Broadcast-Style Mix/Effects Switching
ATEM Television Studio uses a professional program/preview style of operation, which is exactly the way large broadcasters use live production switchers. However, ATEM Television Studio can be switched to A/B style switching, which is easier when it's used by volunteers or community groups. However, if you want to operate the switcher like a broadcast professional, then the program/preview is perfect. This means a source won't be put on air until you press the cut or auto button. This two-step process means you see what you are selecting before putting it to air, so you get fewer mistakes.
Add Exciting Video Effects
One of the benefits of ATEM Television Studio is the range of professional built-in video effects. The cut button ensures an instant cut when switching between sources. The T-bar fader can be used to transition video effects, or you can do the transition automatically by pressing the auto button. Auto uses the transition duration set in the system control. You can also select the type of effect you want, including mix, which does a smooth transition between sources, or dip which transitions via a third video source, such as a color generator. There is a wide range of SMPTE wipes included, plus DVE effects that slide or squeeze the image off screen when transitioning between video sources.
Creative Transitions
ATEM Television Studio includes the same kind of transitions found on expensive broadcast switchers. This means the effects and transitions can be customized in many different ways, so they are surprisingly powerful. You'll never stop finding new ways of using them. That's because all transitions can be customized by adjusting parameters such as duration, border color, border width, position, and direction. You can even use the DVE with a wipe transition, where the DVE moves a graphic over the wipe edge. That's called a graphic wipe and it's often used in sports broadcasting. The preview transition button can be used to set up effects offline, which is great for eliminating mistakes.
Built-In DVE
ATEM Television Studio HD features an independent DVE that lets you reposition graphics and create picture-in-picture compositions. You get amazing quality and the DVE supports position, resize, and scale, all in real time. The DVE lets you create professional picture-in-picture effects with customizable 3D borders, shadows, and lighting. DVEs can also be used to create amazing DVE transitions with squeeze, swoosh, and push effects for adding excitement to your programming. You can even combine DVE transitions with custom graphics to create your own graphic wipe transitions. Pus, there is also a SuperSource multilayer processing engine with 4 extra DVEs.
Supports Internal Media
The built-in media pool stores broadcast-quality graphics and animations that can be played back using the built-in media players. Media players appear as independent sources, so you don't need to waste any of the SDI inputs for graphics. For highest quality, all media supports RGB colorspace with alpha channel, allowing transparency and layering. The media pool can hold 20 HD resolution stills. Motion graphics clips for animations and stingers can be up to 400 frames in 720HD and 200 frames in 1080HD. The ATEM Software Control allows you to upload and manage media. You can even prepare graphics in Adobe Photoshop and then download to the media pool using the free ATEM Photoshop plug-in.
Includes 4 ATEM Advanced Chroma Keyers
ATEM Television Studio is perfect for news and on-set presentation work because it features 4 ATEM Advanced Chroma Keyers for green screen keying effects. The chroma keyers are incredibly powerful and include features such as a color picker to sample background colors for automatic generation of the key parameters. You get precise controls for edge and flare, and there is even a foreground color corrector, so you can match the foreground and background layers for seamless compositions. You can even use it for title overlays by creating graphics with a green or blue background. With 4 ATEM Advanced Chroma Keyers, ATEM Television Studio is perfect for creating fixed camera virtual sets.
SuperSource Processing
In addition to the DVE in the ATEM Television Studio, there is also a powerful SuperSource multi-layer processor. SuperSource gives you 4 extra DVE layers plus a background layer, all layered together as an additional input source. Any video input can be used as sources for each DVE, then it's all layered together over a media pool custom background or live video. SuperSource is perfect for doing multiple picture-in-picture displays with people being interviewed because you can set up the effect, so the viewer can see each person being interviewed, all within a stylish graphic. SuperSource is just like having a completely independent multi-layer VFX switcher built in.
8 Standards Converted 3G-SDI Inputs
The ATEM Television Studio HD features 8 independent 3G-SDI inputs, with each input featuring its own dedicated standards converter. That means it's possible to convert any 1080HD or 720HD input source to the video standard of the switcher. That means you could have each switcher SDI input running a different television standard and all the inputs would just work.
SDI input audio channels 1, 2, 3, and 4 can also be manually routed to various embedded audio channels in the program and aux outputs. Plus, you can even router out audio channels 1 and 2 from the SDI inputs to the MADI digital audio output, so you can hand off the switcher input audio to an external audio engineer for mixing.
3G-SDI Outputs with 16 Channel Embedded Audio
The ATEM Television Studio includes nine 3G-SDI program outputs, so you get enough connections to send a separate program return feed to all of your cameras. That's important because the SDI program return is used to send tally, talkback, and control information back to the cameras.
You also get two dedicated aux outputs for driving stage monitors and master recorders. These aux outputs can be live switched using dedicated buttons on the control panel. Aux 1 even includes an on-screen counter for presenter monitoring. Plus, you can manually route audio into all 16 embedded audio channels in the SDI outputs. For camera monitoring, there is a dedicated 3G-SDI and HDMI output for the multiview.
16-Source Multiview on a Single Monitor
When doing larger live productions with multiple cameras, it's vital to see all your video sources at the same time on a single monitor. ATEM Television Studio HD includes a professional multiview that lets you see all video inputs, preview, and program on a single SDI or HDMI monitor. You can even send the multiview to the aux outputs. Each camera view includes tally indicators, so you know when each source is on-air, plus each view has custom labels and audio meters. You can fully customize the multiview layout with up to 16 simultaneous views. You can also select one of the additional status views that lets you track recording, streaming, and the audio mixer status, right from the multiview.
Add Audio Expansion for More Microphones
If you're building a podcasting studio or you need more microphones, then the ATEM Microphone Converter allows audio input expansion. It connects to the ATEM Television Studio using the MADI port, so there's no complex setup and you can daisy-chain units to add more inputs. Each converter has 4 analog inputs that are mic/line selectable and have phantom power.
The design features amazing quality with an extremely low noise floor of -129 dBV, a dynamic range of 131 dB(A), low distortion of 0.002%, and uniform tolerances across all channels. It even uses 8 separate ADCs on each input to collectively extend the dynamic range. Plus, it has a fun HDMI monitoring output with scrolling audio waveforms.
Record Direct to Internal Cloud Storage or USB Disks
ATEM Television Studio HD supports recording to external USB flash disks. Or if an optional M.2 flash disk is installed, you can record direct to internal cloud storage. The internal storage plus any external USB disks will be available to share over the local Ethernet network, so other people can work on postproduction tasks such as editing, color correction, and graphics preparation.
All recordings are in H.264 format with AAC audio for broadcast-quality video and small file sizes. You can also connect multiple USB disks, so recording will continue if a disk becomes full. You even get buttons on the control panel to start recording, and you can see record status in the multiview.
Outputs to Any Software that Supports USB Webcams
You can use any video software with ATEM Television Studio HD because the USB connection will emulate a webcam. That means you can plug into a computer and use any video software that works with a webcam. The software is tricked into thinking the ATEM Television Studio HD is a common webcam, but it's really a live production switcher. That guarantees full compatibility with any video software and in full resolution 1080HD quality.
Imagine doing a presentation from a professional broadcast studio to software such as Zoom, Teams or Skype. For streaming, the webcam output also works with streaming software such as Open Broadcaster, XSplit Broadcaster, and more.
Includes Free ATEM Software Control Panel
The ATEM Software Control app unlocks the hidden power of ATEM Television Studio HD by allowing access to all the features in the switcher. ATEM Software Control features a visual switcher user interface with parameter palettes for making adjustments. Although you can connect via USB, if you connect using Ethernet, you can run multiple copies of ATEM Software Control on different computers.
The software lets you live switch, mix audio, color correct in the cameras, and manage media. You can also build and run complex macros from the software. Plus, you can save the switcher state as an XML file for recalling jobs later. You can even control trigger external HyperDeck recorders.
Localized for 13 Popular Languages
ATEM Television Studio HD supports multiple languages in the menus and in the ATEM Software Control, so you can customize it to the language you prefer. You get support for English, Chinese, Japanese, Korean, Spanish, German, French, Russian, Italian, Portuguese, Turkish, Polish, and Ukrainian languages.
Simply go into the setup menu to change the language, or you can always switch to another language at any time in the future. Once a language is selected, the menus on all the LCDs will change to the selected language. Multiple language support means ATEM Television Studio HD is perfect for doing live production work anywhere in the world and with any crew.
Flexible and Redundant Power
The all-in-one design of ATEM Television Studio includes a built-in power supply, so you don't have to carry around an external power brick. Simply plug it into any AC mains outlet and start live production. The international power supply automatically works from 100 to 240 VAC, so you can use it anywhere in the world. Plus, ATEM Television Studio includes both AC and DC power connections.
A broadcast standard XLR 12 VDC power connection is included, which is perfect for backup power or for running on batteries. That means you can use it in extremely remote locations. Plus, if the internal power supply should malfunction, then you can simply connect an external DC supply to keep running.
Designed to Be Easy to Repair
With so many features built in, it's vital that ATEM Television Studio can be easily repaired. Plus, there is already a lot of built-in redundancy, with 4 Ethernet connections, 9 program SDI outputs, 2 USB ports, and 2 power connections. However, if someone trips on a cable and breaks a connector, then you need to be able to repair the connector at low cost.
All the internal electronic PCBs are modular, so any qualified technician can buy a replacement and easily swap the board. This includes the connector PCBs, which can be purchased separately. All the technician needs to do is remove the bottom cover and replace the PCB. A large broadcaster could even buy the boards as a spare parts kit.
Applications
Compact Broadcast Vans
With the all-in-one design, you can build a new generation of ultracompact broadcast vans. You don't need racks of equipment, so you can eliminate clutter for a much nicer work environment. For stability, you can even mount the switcher inset into the desk.
Music Venues and Clubs
Some of the most exciting venues, such as downstairs music venues or comedy clubs, are too small for racks of video equipment. However, ATEM Television Studio can be carried into any venue. It's also easy to pack up, even if the venue is still crowded.
Online Education
ATEM Television Studio is perfect for creating education content. As the ISO model records the video inputs, you can finesse edits, replace shots, and even add color correction. Plus, you can even connect to Zoom to incorporate live chat with students.
Live Sports
ATEM Television Studio is perfect for live sports because it has a simple design that's easy for community volunteers to use. It can be installed into sports clubs or taken on the road with the team. With up to 8 cameras, you'll catch all the exciting angles.