Carl Zeiss 100mm f/2.0 Milvus Makro-Planar T* ZE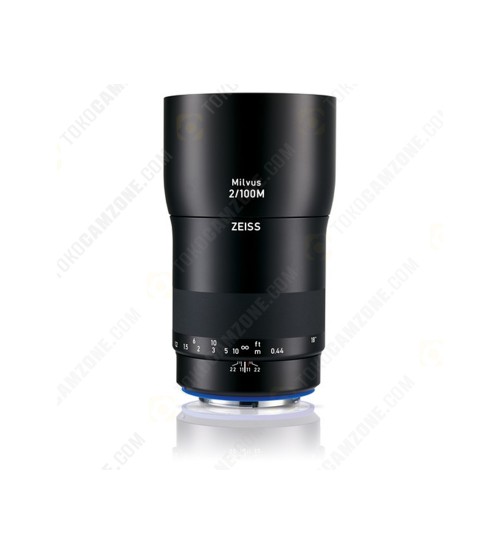 Lihat gambar lebih detail
PRODUCT HIGHLIGHTS
· EF Mount Lens/Full-Frame Format
· Aperture Range: f/2 to f/22
· 2 Anomalous Partial Dispersion Elements
· Planar Optical Design
· Floating Elements System
· Zeiss T* Anti-Reflective Coating
· Manual Focus Design, Macro Markings
· Anodized Metal Barrel, Rubber Focus Ring
· Weather-Sealed Construction
A portrait-length prime featuring a high 1:2 maximum magnification, the Canon EF mount Milvus 100mm f/2M ZE Lens from Zeissfeatures a floating elements system for consistently high image quality when working with both near and distant subjects. Using the classic Planar optical design, this lens incorporates two anomalous partial dispersion glass elements to control aberrations and distortions for even illumination and sharpness throughout the aperture and focus ranges. An enhanced Zeiss T* anti-reflective coating has also been applied to lens elements to suppress flare and ghosting for increased contrast and clarity.

Designed for macro applications, this lens' 1:2 maximum magnification ratio is benefitted by a 1.4' minimum focusing distance along with printed magnification scales on the barrel. Its manual focus design is complemented by a rubberized focus ring for fine-tuned, precise control over your focus position. Additionally, Milvus-series lenses also feature an equally aesthetic and durable frosted, anodized metal lens barrel surface along with a weather-sealed construction to protect against dust and moisture.
· This 100mm f/2 lens is designed for full-frame Canon EF mount DSLRs, and can also be used with APS-C models where it will provide a 160mm equivalent focal length
· Bright f/2 maximum aperture benefits working in low-light conditions and also enables extensive control over depth of field.
· Floating elements system maintains consistent performance when working with both close-up and distant subjects.
· Planar optical design incorporates a pair of anomalous partial dispersion elements, which help to reduce chromatic aberrations and color fringing.
· Enhanced Zeiss T* anti-reflective coating controls ghosting and flare for high contrast, color-neutral imagery.
· A maximum magnification ratio of 1:2 pairs with a minimum focusing distance of 1.4' and dedicated macro markings on the lens barrel for close-up shooting.
· Manual focus design is benefitted by laser-engraved focusing and depth of field scales, along with an IR position dot and hard stops at both infinity and minimum focusing positions.
· Weather-resistant construction includes internal seals to guard against dust and moisture as well as a blue sealing ring at the lens mount to protect the lens-camera interface.
· All-metal lens barrel has a frosted, anodized surface along with a rubberized focusing ring for both durability and improved tactile control.
Technical
Warranty
1 Year Service & Spareparts