Joby UltraFit Sling Strap for Men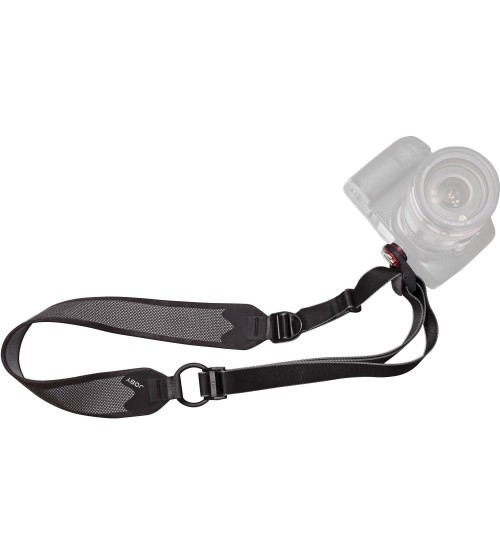 Lihat gambar lebih detail
Joby UltraFit Sling Strap for Women
Attaching your Camera is Quick and Easy
The UltraFit attachment mechanism has a greased bearing which allows your camera to freely rotate without becoming unscrewed from the strap, but it is important to periodically check the tightness of the screw. Secure your sling strap to your camera by tightening the thumbscrew completely. For an even more secure grip, use a quarter to tighten down the screw.
Designing for Comfort
After talking with photographers and testing every product on the market, we figured out what exactly made camera straps uncomfortable—no one designed a camera strap that truly embraced your active lifestyle. JOBY's UltraFit Sling Strap for Men changes that by letting you securely place your camera right where you want it.
The Weight of Your Camera Shouldn't Weigh You Down
UltraFit Layered-Pad TechnologyTM
Evenly distribute the weight of your camera across your strongest shoulder muscles, protecting neck muscles from strain.
Pivot Ring for an Adjustable Fit
A custom-designed pivot ring allows you to adjust the angle of the strap to best fit across your body.
Innovative Heat Press Binding Technique
No more loose threads or abrasive points on your camera strap.
High-Performance Webbing for a Perfect Fit
Soft-edged webbing contours to your body, allowing you to wear your camera wherever is most comfortable
Designing for Speed
There are just moments between you and the perfect shot. But, a lot of the time you spend shooting isn't with your camera at your face. It's looking for the next shot, mingling with the crowd, or eating a burrito. Your strap should always be at hand but also hands free.
Built for Fast & Easy Camera Access
Custom, high performance materials so nothing will slow you downHigh-Performance Webbing. Best-in-class webbing is optimized to smoothly and quickly glide through the camera strap hardwareUltraFit Layered-Pad Technology
Merges four fabrics to create a strap
pad that is lightweight and still evenly distributes the weight of a DSLR or CSC
UltraFit Sling Strap for Women Specifications
Designed for:
· DSLRs
· Compact System Cameras
· Super Zoom Cameras
Attachment Interface:
· 1/4"-20 thumbscrew
Weight:
· 3.5 oz/99g
Dimensions:
· 64 x 1.7"/162 x 4cm
Materials:
· Stainless steel
· Aluminium
· Glass-filled nylon plastic
· EVA foam
Technical
Warranty
Non Warranty