Olympus M.Zuiko Digital ED 75mm f/1.8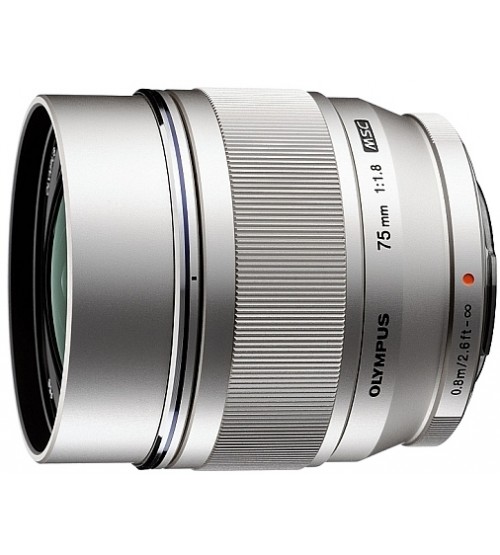 Lihat gambar lebih detail
With the new breed of mirrorless interchangeable lens cameras becoming ever-more popular, manufacturers face a development dilemma. It's not enough to simply churn out camera bodies; to convince potential buyers you have an attractive system, it's essential to provide a decent range of lenses too. But lens systems are hard to establish; concentrate your design resources on affordable lenses for enthusiasts and you risk your system not appealing to the high-end users who are likesly to buy multiple lenses. Focus instead on high-end exotica, and you risk making the step up from the kit-zoom look too daunting (and expensive) for the majority of users.
Perhaps because there are two manufacturers involved, the Micro Four Thirds lens range has balanced the needs of these two audiences well - there are a handful of sub-$400 lenses for enthusiasts, with alternatives such as the recently-announced Panasonic Lumix Vario G 12-35mm F2.8 ASPH OIS and the Leica-branded Summilux DG 25mm F1.4 for the higher-end user. Now, as a counterpart to Olympus's comparatively affordable M.Zuiko Digital 45mm F1.8 portrait lens, comes its more lofty 75mm F1.8.
The 45mm F1.8 is a lovely lens precisely because it offers great image quality while offering an attractive balance of size, price and weight. However, its mainly plastic construction makes it clear that there are trade-offs being made. By contrast, the 75mm features very solid-feeling all-metal construction and those rarely-inexpensive words 'Made in Japan' etched into the body. Sure enough the 75mm is expected to sell for more than twice the price of the 45mm.
Olympus describes the 75mm as a 'high grade portrait lens.' With its 150mm-equivalent field of view it's a little bit longer than the traditional 85-135mm range, that was classically used for portraiture on 35mm cameras. Its minimum focusing distance of 0.84m means you can get pretty close to your subject, however the long effective focal length limits how close you can sensibly work with people (because your narrow field-of-view gives quite a tight crop when working close to your subject).
The F1.8 maximum aperture provides decent control over depth of field, too, offering the ability to blur-away distracting backgrounds and focus attention on your subject. In this respect it behaves much like a 100mm F2.4 lens would on an APS-C camera, or a 150mm F3.5 lens on full frame. This makes it an attractive proposition for its primary purpose of photographing people.
The lens needn't just be used for portraiture, though. Olympus suggests it will also be useful for stage, studio and indoor sports work, and we see little reason to disagree with this. A 150mm-equivalent lens is still a useful thing to have in many circumstances, especially if it's as portable as the Olympus.
Technical
Warranty
1 Year Service & Spareparts