Nebula 4500 5-Axis Slant Gyroscope Stabilizer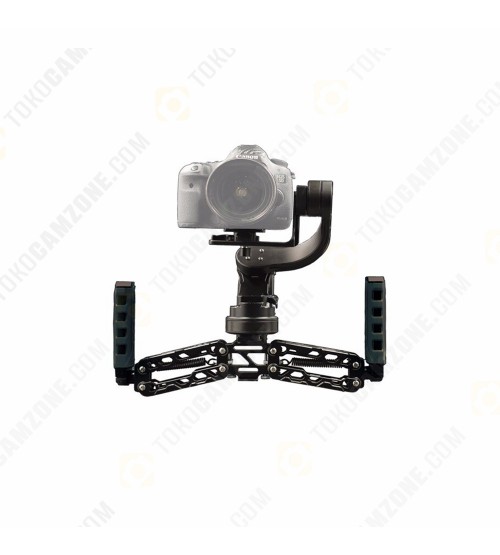 Lihat gambar lebih detail
Special Slant Design - No Blocking Screen While Shooting
As for a new Nebula 4500 updated from Nebula 4300, Filmpower added the slant design making the screen no blocking, also combine with 5-axis spring arm. So it can take a higher payload and a longer lens, giving a perfect using experience for you.

• 4kg Payload
• No Screen Blocking
• Encapsulated 5-axis dual handle
• All Metal Mold Casting
• No Need Balancing
• Instant Manual Adjustment
• Built-in 4096 grade encode
• 8-Hour battery life
• Roll follow mode added
• Double-side use
• Time-lapse function added
• 360 deg. Unlimited rotation hidden cable

5-Axis Stabilization System - Avoid All Vibrations
Compared with the traditional 3-axis gimbal, our original 5-axis dual spring handle can absorb horizontal and vertical bounces caused by our steps.

4kg Payload - Compatible For More Models and Lens
The payload of the Nebula 4500 is up to 4kg, supports all the mirrorless camera and DSLR such as the Canon DSLR, Nikon DSLR, Panasonic GH series and Sony a series.

Built-In 4096 Grade Encoder - Get Start Without Balancing
With a most powerful motor and perfect default parameters, we want our gimbal becoming easier for users to get start. Its compatible with the cameras weighs from 400g up to 4kg while having a low requirement of balancing. Supports parameter adjustment and optimization through assistant app on your computer or iPhone.

Full Metal Mold Casting - Integrated Structure Improves Stability
The main parts of the Nebula 4500 is made of aluminum magnesium silicon alloy, the integrated mold casting structure optimizes the strength and rigidity.

Encapsulated 5-Axis Dual Handle - Comfortable Grip Against Dampness & Moisture
The brand new encapsulated 5-axis dual handle is designed for protecting against dampness and moisture.

Hidden Cable Design - 360 deg. Unlimited Rotation
Hidden cable design, 360 deg. rotation along all three axes, no limitation wherever your turn.

Multiple Practical Modes - Suitable for Any Circumstances

5-axis double handheld eye-level mode
Normal 5-axis use, suitable for tracking, running and rotating shots.

5-axis double handheld waist-level mode
Hang the gimbal with the 5-axis spring arm dual handle, suitable for simulating jibs movements and sports shots.

3-axis single handheld normal mode
Use the single handle instead of the 5-axis dual handle, suitable for shooting in narrow spaces.

3-axis single handheld hang mode
Mount the single handle on the top of the gimbal, suitable for low angle shots.

Considered or the efficiency and convenience, provides optional shooting solutions in any circumstances.

Instant Manual Adjustment Change to Wherever You Want
You can manually change the position of your camera to wherever you want while shooting, just try different angles and compositions.

Time-Lapse Function
The Time-lapse function is added to the Nebula 4500, you can set the shooting time through the App on your phone and adjust the camera position, it is easy to capture every moment with the Time-lapse function.

Auto Face Tracking Now Available
With the help of the assistant app on you iPhone, it achieves the Auto face tracking function now!

Replaceable Smart Battery - 8 Hour Long Battery Life
Saving a lot of energy by the help of the encoder, the battery has got a 8-10 hours long battery life. Nebula 4500 also supports directly charge through a 16.8V charger without removing battery while shooting.

1/4 Screw Holes More Expansion Possibilities
There are many 1/4 screw holes on the top of the grip and the top/bottom of the handle, which can support various equipment.

Ingenious Design of the Tactical Cage
Specially designed for filming, with the tactical cage, you can quickly mount/remove the camera from Nebula 4500 onto the tripod, improve efficiency.

Nebula 4500 Hard case - Light & Safe
Safety and compact for you to put your Nebula 4500 right away in the hard case.
Specifications
Material

Aluminum magnesium silicon alloy

Built-in Functions

Follow control, Orientation-locked control, Steady system, Double sides use, Time-lapse mode, Manual adjustment system

Mode

Follow mode, Semi-lock mode, Lock mode, Roll follow mode

Load

<=4kg (8.82 lbs)

Support Cameras

Supports all the DSLR cameras and mirrorless cameras such as the Canon DSLR series, Nikon DSLR series, Panasonic GH series and Sony a series

Control Precision

+/-0.01 deg.

Battery

12.6V 2600mAh (with charging protection circuit)

Duration

Replaceable smart battery for 8-10 hours battery life (depends on the weight of camera and working status)

Sensor

32-bit encoder

Parameter Adjustment

iOS, PC/Mac, Bluetooth

Weight

1.2kg (2.65 lbs)
Technical
Warranty
1 Year Service & Spareparts