Professional Flash Trigger DC-04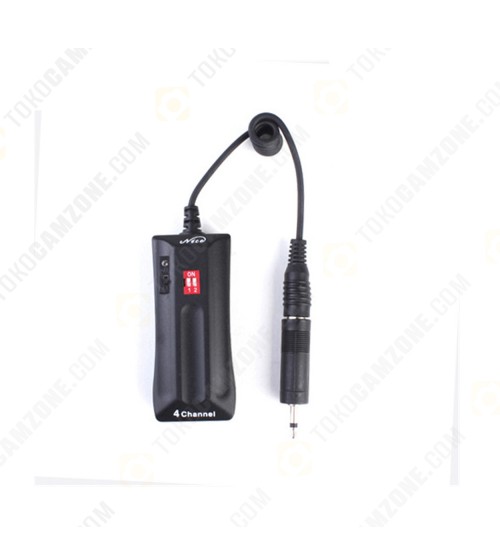 Lihat gambar lebih detail
Nice DC-04A 4 channels FM Receiver for Wireless Flash Trigger Studio
The item must use with the "Transmitter" together the transmitter of Nice brand can trigger all the reciever as long as it is Nice brand,
4 Channel Transmitter can trigger the reciever from DC-01A, AC-01A, DC-02A, AC-02A, DC-04A, AC-04A, PT-04A, DC-16A, AC-16A;
4 Channel Transmitter can trigger 16 Channel Receiver,but only work on 4 channels from the receiver(you have to find from the 16 Channel of the Receiver to see which 4 channels is work on).
The brand is called Nice.
The remote trigger for studio flashes and outdoor flash is used as the controller of synchronous trigger studio flash of cameras. It consists of a signal sender and a receiver trigger and works by means of the frequency modulation wireless remote control.
The signal transmitter adopts the advanced circuit and components, and can transmit the coded FM wireless signa. The circuit of the transmitter has the function of standby and hibernation, thus it has low power consumption; the products can work under the standby mode for more than one year with only one battery; continuously trigger for thirty thousand times. the trigger current is only 0.01MA, which will definitely cause no damage to the flash contact of the camera. The transmitter is applicable to the traditional or digital camera with hot shoe or PC controlling interface.
Receiver trigger adopts dry battery for power supply, which is safe, energy-saving, and convenient. The product adopts micro-computer for controlling the decoding, Which has superior anti-interference capability; sensitive reaction speed, the highest synchronous speed can reach 1/500 sec.
Power Source:23A AC 100-230V
Outdoor operating distance (open area) :>30M
Indoor operating distance: >10M
Operating Frequency:433Mhz
Outdoor Synchronous Speed (open area):Max 1/500sec
Indoor Synchronous Speed:Max 1/250sec
Technical
Warranty
Non Warranty