Roland V-02HD MK II Multi-Format Video Mixer with Streaming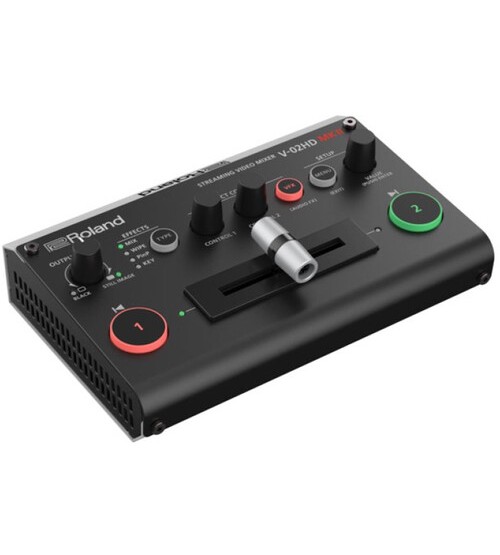 Lihat gambar lebih detail
Features
>> 2 x HDMI Inputs Supports up to 1080p60
>> HDMI Outputs: 1 x Program, 1 x Preview
>> Discrete Scalers on Inputs and Output
>> USB Type-C Output for Easy Streaming
>> 14 x Real-Time Adjustable Effects
>> 5 x Compositing Effects
>> Picture-in-Picture Effect
>> Stores Single Still Image/Graphic
Switcher Features
>> The V-02HD MK II is a single unit that incorporates a simple switcher, a high-quality scaler, an input expander, an audio solution, and an inline video effects/compositor
>> It takes the HDMI output from two cameras and has both a preview and program HDMI output
>> A preview output enables you to view the menu without the overlay appearing on the program output
>> It features a built-in encoder that outputs your program output via the USB Type-C port, allowing you to stream easily from a computer without needing an additional encoder
>> Audio from both cameras and external sources can be mixed within the V-02HD MK II and monitored through a dedicated headphone output
>> The switched output is embedded in real time and output over HDMI for reliable recording or monitoring
>> The switcher operates with 10-bit 4:4:4 processing
>> Integrated scalers enable the mixing of different formats, such as HD to SD and computer resolutions
>> You can embed and de-embed audio, both analog and digital
>> The V-02HD MK II has built-in three-band EQ and dynamics
Streaming Platforms
The USB output stream is recognized by your computer as a camera source, so it requires no additional encoding by your computer to stream to virtually any streaming platform, including Facebook, YouTube, Twitch, and Zoom. It also integrates seamlessly with OBS Studio, Streamlabs OBS, StreamYard, and Restream.
Audio Conttrol
This video mixer also features a 10-channel digital audio mixer with full mixing functions for all audio sources, including the mixer's two 3.5mm stereo mic jacks that support powered or unpowered microphones. Mix audio from different sources, including microphones, audio from a smartphone, embedded audio, and other sources. The audio mixer functions enable adding studio polish to your program with compressor, EQ, and reverb effects. The unique voice changer effect allows you to have fun with format shifting and robot sounds. It's also possible to independently delay the audio inputs and outputs (including the headphone output) if you have any synchronization issues with your cameras.
Computer Control
Using the optional V-02HD MK II RCS application for either macOS or Windows allows you to control nearly all the functions of the mixer simultaneously using the same USB connection the mixer uses to send the program out to your computer for streaming. The application can run on your computer while it streams your video, so you can switch and stream your show while using only your computer.
iPad Remote App
Turn your iPad into an efficient touch interface for the V-02HD MK II with the dedicated V-02HD MK II Remote app. The app allows you to run essential switching functions, mix audio with virtual faders, change settings and effects parameters quickly, and create up to eight custom scenes for seamless setup changes, all from your iPad.
Effects
Video
>> Transition: Cut, mix (dissolve), wipe (9 types)
>> Composition: PiP (square, circle, diamond), key (luminance key, chroma key)
>> Visual effects: mosaic, wave, RGB replace, colorpass, negative, colorize, posterize, silhouette, emboss, find edge, monocolor, hue offset, saturation offset, value offset
>> Others: Flip horizontal, flip vertical, still image capture, still image playback, output fade (audio/video: white or black), test pattern output
Audio
>> Delay
>> High-pass filter
>> Compressor
>> Noise gate
>> Equalizer
>> Multiband compressor
>> Limiter
>> Test tone output
Other Functions
>> Preset memory (8 types)
>> Panel lock function
>> EDID emulator
>> Auto scan
>> Auto input detect
AeroCaster Switcher
With the V-02HD MK II, you get free access to Roland's AeroCaster Switcher for iPad, a powerful solution that enables you to wirelessly connect and switch up to five smartphone or tablet cameras, then output a combined program feed to the V-02HD MK II or another supported Roland switcher with an HDMI input.