Sony SF-M 64GB 277MB/s Series UHS-II SDXC Memory Card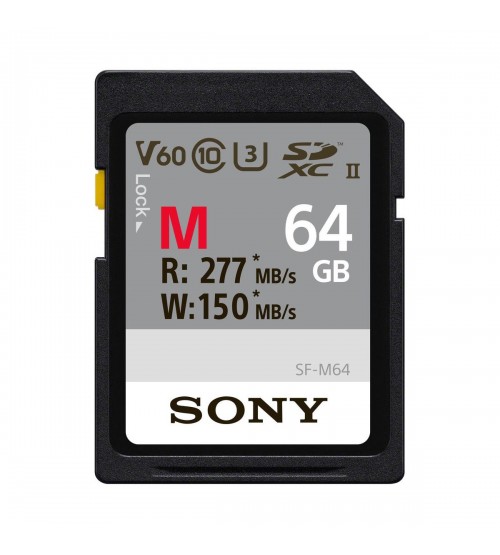 Lihat gambar lebih detail
The SF-M series memory cards combine high performance, reliability, and great value. Enjoy fast transfer speeds for high-resolution shooting and efficient workflows, along with Sony's dependability and advanced complimentary software tools.

A complete SD card solution

UHS-II high speed M-series memory cards are the perfect balance of speed, power and value.
Sony's high speed memory cards provide a fast buffer clearing time between burst shooting, and an efficient workflow when transferring content to a computer.

Effortless efficiency
Shoot and transfer high-res photos and 4K video quickly and easily.

Fast, seamless transfers
Transfer photos quicker, and start editing sooner, with an ultra-fast read speed of up to 277 MB/s.

Never miss a moment
A fast write speed of up to 150 MB/s1 means less buffering between burst shots, while the latest V60 Video Speed Class allows for high-resolution video recording.

Total reliability and Enhanced durability
Sony SF-M series memory cards are tested for durability in a range of shooting conditions and deliver reliable performance wherever you are. Our cards are built to withstand drops and shocks in hot, cold, and wet conditions so you can shoot with confidence.

Media designed to last.
Whether you need blazing fast transfer speeds or media built to endure harsh conditions, Sony SF-M series were designed as the total solution for any photographer.

Software and compatibility

SD Scan Utility
Over time, SD cards wear out and stop recording data reliably. SD Scan Utility scans your SD card and tells you when it is nearing its write cycle limit. Available as a free download to Sony memory card customers.

File Rescue
One small slip and precious photos and files can be accidentally deleted. With our powerful File Rescue software, you can quickly and simply recover lost data. Download it for free when you buy a Sony memory card.

Broad compatibility
Our high-speed memory cards are built for compatibility with both UHS-I and UHS-II devices, giving serious photographers and professionals the flexibility to shoot with a range of powerful cameras.

Features

Up to 277 MB/s Transfer Speed
With up to 277 MB/s read speed, you can back up and transfer images faster, for more efficient workflows - less time waiting, more time doing.

Up to 150 MB/s Write Speed
A fast write speed, up to 150 MB/s, provides quick buffer clearing times for continuous burst and high-resolution still image capture. For video creators, the UHS Speed Class 3 and new V60 Video Speed Class provide fast minimum write speeds for dependable, high-bitrate, 4K video capture.

Superior reliability
SF-M series memory cards are tested for reliable performance, even in harsh conditions. With an IP57 rating, this SD card is durable and resistant. Designed to survive drops up to 4.92 ft, waterproof for 30 min at 3.28 ft depth and able to operate in temperatures ranging from -12.99 Degree F to +185 Degree F, the SF-M Series UHS-II SD Card will last, whatever the weather.

Exclusive Sony software
Enjoy added security and peace of mind with Sony's File Rescue software, developed to recover a variety of corrupted or accidentally deleted files. The SD Scan Utility is also available to monitor memory card write limits and alert you when they are reached (read speed 260 MB/s SF-M series are not applicable). Both tools are free for Sony memory card customers.

Broad compatibility
Get the most from your high-performance UHS-II cameras and devices with the excellent balance of speed and value. Also compatible with a wide range of UHS-I devices.
---
Sony SF-M Specifications