Synco G1L/G1T Digital 2.4GHz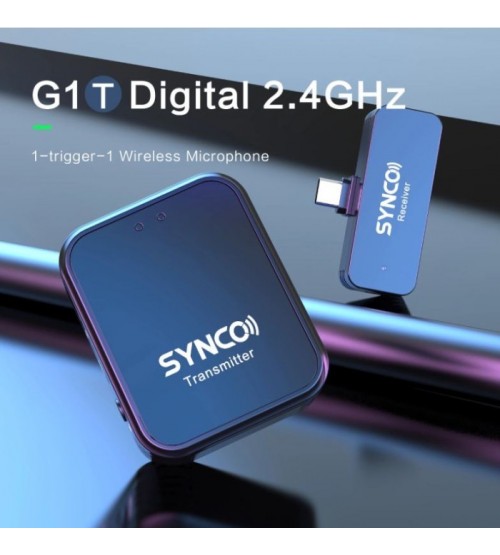 Lihat gambar lebih detail
Features
>> For Podcast, Vlog, Streaming, Meetings
>> Clip-On Transmitter with Built-In Mic
>> Compact Plug-In Receiver (Lightning)
>> Easy to Use, Automatic Pairing
>> Low-Cut Filter, Mute Function
>> Adjustable Gain on Receiver
>> 8-Hour Rechargeable Battery + USB Power
>> 492' Range Line-of-Sight
Clip-On Transmitter with Built-In Mic
>> The compact transmitter is equipped with both a built-in microphone and a 3.5mm input that accepts an optional lavalier microphone.
>> The transmitter can be clipped on clothing without having to wire yourself or your talent, providing a fast, truly wireless setup. You can also hold the transmitter in your hand and use it as a handheld microphone.
>> A 150 Hz, low-cut filter on the transmitter can be engaged to reduce air-conditioning and wind noise.
>> The Mute button enables you to cut off the microphone while you keep shooting video or live streaming.
>> A furry windshield for the microphone is included for outdoor shoots.
Compact Receiver Mounts Directly on Your iPhone
>> The compact receiver is equipped with a detachable Lightning connector for direct mounting on your iPhone.
>> The Lightning connector can be swapped with a USB Type-C connector (available separately) for using your system with an Android phone.
>> A USB port on the receiver allows you to power your iPhone while in operation for virtually unlimited shooting time.
Easy-to-Operate System
>> The transmitter and receiver come pre-paired from the factory. Just turn on your system and you're ready to go!
>> If needed, simply press the pairing buttons and the system components pair again automatically.
>> Dedicated gain buttons on the receiver allow for 4 levels of gain adjustment for the microphone.
>> The receiver and the transmitter have LEDs that indicate power, battery life, and pairing status.
>> The transmitter is powered for up to 8 hours via a built-in rechargeable battery.
>> The battery recharges in 1 hour; a charging cable is included.
Monitor Your Sound in Real Time
>> If your iPhone doesn't have a headphone jack, you can monitor your sound via the receiver's 3.5mm headphone output while recording to ensure that you are capturing a clean signal.
Voice Transformation
>> The transmitter features a microphone Voice Changer function that offers creative voice effects including Original, Studio FX, KTV FX, Voice Amplification, EDM (Electronic Dance Music), Baby FX, Male to Female, Female to Male, and Monster FX.
2.4 GHz Digital Wireless
>> To avoid interference from TV and radio waves, the WAir digital system operates in the 2.4 GHz frequency band—far away from television, radio, and UHF wireless microphone transmissions.
>> The system automatically changes transmission frequency to mitigate noise and dropouts at a line-of-sight distance of up to 492 feet or up to 164 feet when some obstacles are present.
>> For optimal performance, environments with limited Wi-Fi/2.4 GHz traffic and minimal physical obstructions are recommended.