Roland VR-120HD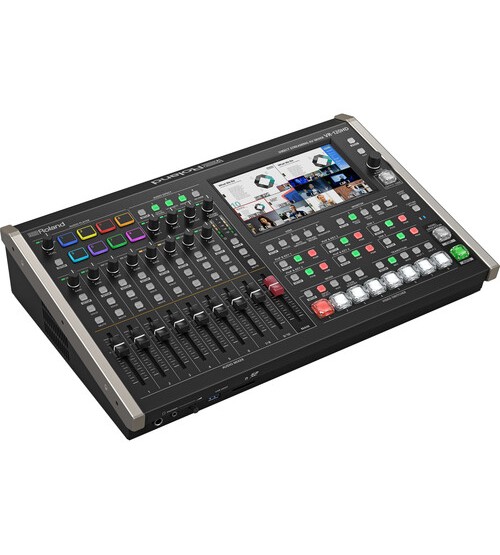 Lihat gambar lebih detail
Roland VR-120HD Overview
Add a professional hybrid event AV mixer to your production kit with this VR-120HD Direct Streaming AV Mixer from Roland. Combining the advanced functions of a video switcher and an audio mixer, the portable VR-120HD is ideal for live school events, houses of worship, council meetings, corporate events, concerts, and other live performance venues. The switcher offers the capability of live streaming up to two simultaneous streams to popular online forums, such as Facebook and Twitch.
The unit features six HDMI inputs and six SDI inputs capable of handling resolutions up to 1080p60, as well as three HDMI and three SDI outputs, 42-channel audio mixing, and direct LAN and USB-C live streaming outputs. Perfect for use as a standalone production switcher, the VR-120HD offers an integrated 7" touchscreen display with a graphical menu for previewing all your incoming signals and viewing your intended program output without ever needing additional preview monitors.
Hybrid live and online productions can easily be managed by a single operator with hands-on control and with sophisticated automation functions, customizable workflows, one-touch macro sequencing, and remote control of up to 12 PTZ cameras. The integrated eight-layer video effects engine, seven selectable output modes, and six HDMI input options with frame rate converters and real-time scalers only scrape the surface of the versatility offered by this switcher, which also handles a wide range of cinema and broadcast frame rates and has internal recording when using an optional SDXC card or USB-A flash drive.
Key Features
- Portable hybrid event audio/video mixer with direct streaming encoders.
- Powerful live production automation with sequencing, macros, and scene memories.
- Built-in streaming encoders for transmitting two live streams at up to 1080p60.
- Record streams directly to an SDXC card for archiving, editing, and distribution.
- Six 3G SDI inputs with frame rate converters.
- Six 1080p HDMI inputs with frame rate converters and real-time scalers.
- Support for cinema and broadcast frame rates.
- Eight-layer video effects engine.
- Eight total outputs: three SDI, three HDMI, USB-C streaming, and a dedicated direct streaming output.
- Seven selectable output modes: Program, Sub-Program, Aux, Preview, and three Multi-View options.
- 42-channel digital audio mixer with advanced effects and processing.
- Two 1/4" TRS ports for CTL/EXP.
- 16-slot still store function supports screen capture or uploaded BMP/JPEG/PNG images via the alpha channel in the internal non-volatile memory.
- Enhance your live streams with sound effects, still images, and video sources stored on an SDXC card.
- Audio player function with eight trigger pads and onboard storage for 16 audio files.
- PTZ control for 12 cameras with support for multiple brands and mixed protocols.
Create Custom Experiences for Live and Online Audiences
The flexible video capabilities let you handle the diverse presentation needs of events as they happen. Assign sources to eight cross points on the fly, including live video inputs, still images, and video clips. Prioritize cameras and/or computer sources with scene recall. And create custom feeds for live and online viewers by assigning composition layers to multiple busses as needed.
HDMI and SDI Inputs
The VR-120HD supports both HDMI for most common devices and SDI for long cable runs and high-end cameras. Seamlessly combine six HDMI sources and six SDI sources with a range of broadcast and cinematic frame rates and color spaces with resolutions up to 1080p60. All HDMI inputs feature built-in scalers with EDID and HDCP support, eliminating connection hassles with client-provided sources like computers, tablets, smartphones, gaming consoles, and legacy 4:3 devices.
Integrated Playback of Stills and Video Clips
Enhance events with onboard support for graphics and video playback. Call up still images during transitions between presenters, display graphics for breaks, and use PNGs to create dynamic lower thirds. The integrated video player lets you trigger video clips directly from the SDXC card, with no need to connect an external playback device.
Layers and Keyers
Video effects and graphics bring polish and excitement to productions. The VR-120HD's effects engine features eight composition layers that can be assigned to the Program, Sub-Program, and Aux outs, so you'll always keep audiences engaged with visually appealing content. With up to four picture-in-picture windows and two downstream key layers with transparent PNG and external key support, you can manage the creative needs of any client.
Versatile Video Outputs
With multiple assignable outputs, including three SDI and three HDMI outputs, a USB-C streaming output, and Ethernet streaming, the VR-120HD puts a high-end video matrix at your command. Feed program displays, auxiliary monitors, multiview producer displays, and online audiences at once, complete with a clean output left over for recording the presentation to an SDXC card.
Professional Digital Audio Mixing
The VR-120HD boasts powerful audio capabilities, saving the expense of a dedicated mixer and sound engineer. You have 42 channels of audio control, complete with a host of processing tools, I/O routing options, and automation features.
Multichannel Analog and Digital Audio Inputs
The VR-120HD features six balanced audio inputs with XLR/1/4" combination jacks, high-quality mic preamps, and phantom power. Four RCA inputs are on hand for standard line-level devices, and you can also mix embedded digital audio from the HDMI, SDI, and USB inputs. Bluetooth is available as well for streaming audio from a mobile device.
Powerful Mixing Tools
Set up direct control for your most important sound feeds with eight assignable faders. And when you have multiple presenters to deal with, engage Auto Mixing to lighten your load and ensure that the mix between microphones remains balanced. You can set specific inputs to take priority when someone starts to speak, and other audio levels are automatically reduced as needed.
A Mix for Each Audience
Two auxiliary audio busses let you set up unique mixes for a variety of applications. For example, you can feed a monitor system for stage performers while live streaming a specialized mix that's independent of the in-person program. Versatile routing allows you to freely assign the mix and aux busses to the two stereo XLR outputs, RCA stereo output, USB and stream/record outs, and HDMI or SDI outputs.
Shape Your Sound
The VR-120HD combines the full power of the latest digital audio consoles with expansive Roland effects. EQ and dynamics processing is provided for every input and output, and high-quality reverb is available for music applications and special effects. You also get specialized tools to quickly handle audio issues, like automatic anti-feedback for stage mics and adaptive noise reduction to suppress background noise and hum.
Audio on Demand
With the VR-120HD's unique Audio Player section and eight assignable pads, it's simple to enhance events with custom sounds. With a quick press, you can trigger sound effects, event announcements, countdowns for e-sports, or theme songs when presenters take the stage.
Ethernet + USB Streaming and Onboard Recording
The VR-120HD's advanced technology makes live streaming to the most popular platforms smoother than ever before. With support for both direct streaming over Ethernet and computer streaming over USB, you can deliver high-quality presentations to any audience. And with simultaneous SDXC recording, it's easy to capture the show for later distribution.
Secure and Reliable Streaming over LAN
With the VR-120HD's powerful LAN streaming capabilities, you can directly connect to Twitch, Facebook, and other platforms without the need for a computer. The Adaptive Bit Rate function monitors the quality of the network connection and automatically adjusts the streaming rate to reduce interruptions due to bandwidth issues. An adjustable Safety Delay is also available, allowing you to confidently stream unscripted events and prevent offensive content from being broadcast.
Dual LAN Streaming Destinations
Encode and broadcast Ethernet live streams to two independent channels on the same platform to reach a wider audience. Or use the second channel to capture a local backup in real time.
USB-C Streaming up to 60 fps
Stream to any audience in Full HD to a computer via USB. The USB-C connection offers the same plug-and-play technology as webcams, so you can begin streaming immediately with Zoom, Microsoft Teams, or any platform that can use a webcam as its source. It is USB video class (UVC) and USB audio class (UAC) compliant. YUY2 (uncompressed) and Motion JPEG (compressed) formats are supported.
SDXC Card Recording
With the VR-120HD's onboard recorder, you can easily record an event to an SDXC card and provide your client with an H.264 MP4 video file for their editing and distribution needs. Stereo WAV audio can also be recorded independently for podcasts and other audio-driven media. It's even possible to capture still images to internal memory from any video output bus and save them to the card for later use. The recording bit rate is the same as the live stream encoding bit rate.
Take Full Control of Your Productions
The VR-120HD provides immediate control of essential functions with hardware knobs, faders, and buttons. And with the 7" touchscreen display, you have fast access to deeper parameters and settings. Scene, macro, and sequencing features make your workflow even smoother, letting you pre-program complicated actions and fire them off with simple actions during the event.
Fast Recall of Complex Compositions
Storing and recalling custom looks can be accomplished with just a few button presses. The 32 scene memories and advanced effects engine work together to provide seamless changes, including synchronizing the transition of all composition layers at the program output. The 100 macros go even deeper, allowing you to build and execute complex action lists that include switching, DSK on/off, audio mixing adjustments, PTZ camera movements, and more.
Sequencing Magic
The VR-120HD's sequencer makes presets and macros even more powerful, letting you perform perfectly timed cues with ease. Up to 1000 steps can be recorded in the sequencer, and each step can include both presets and macros. Set up your cues ahead of time in the sequence list and trigger them for a stress-free production.
Automated Switching and Mixing
When there are many stage presenters, you need to follow the action and switch audio and video together. The automated video switching and audio mixing features in the VR-120HD make this complicated task simple, greatly easing your workload and creating a smooth experience for the audience.
PTZ Camera Support
Robotic PTZ (pan-tilt-zoom) cameras eliminate the need for multiple operators, provide enhanced broadcast-quality coverage, and can be placed in discreet locations thanks to their small size. The VR-120HD features integrated support for select Canon, JVC, Panasonic, Sony, PTZOptics, Avonic, and VISCA-compatible PTZ LAN cameras. Mix and match different brands as you like and operate up to 12 PTZ cameras simultaneously.
Deep Remote-Control Options
- The VR-120HD supports extended workflows with dedicated software apps and a variety of remote devices.
- Connect footswitches or expression pedals to execute over 100 different switcher commands.
- Trigger start/stop on Atomos recorders over HDMI.
- Set up a tally light with Roland's Smart Tally or the rear-panel hardware connector.
- Seamlessly integrate with system installations via the RS-232 and TALLY/GPIO DB-sub connectors.