Visico VC-300 HH Umbrella Kit 2 Flash Head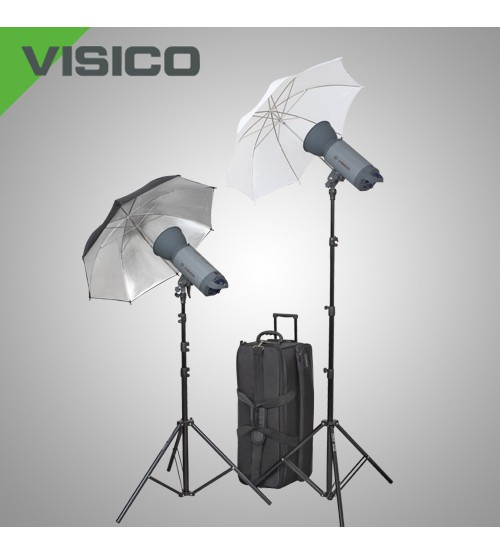 Lihat gambar lebih detail
Visico VC-300 Umbrella Kit
The Visico VC-300 Umbrella Kit is a complete flitset contains two flash heads, two light stands, and two translucent umbrellas. The umbrellas are ideal to avoid harsh shadows and in situations where multiple light sources are present. The flash heads by their constant and accurate performance in terms of both output and color temperature ideal for the photographer who is a little more demanding. Moreover, you can also use Visico accessories on Bowens equipment!
Difference HH series and LR series
The Visico HH series is technically identical to the LR series, however it is not equipped with the luxurious display. In addition, the LR-series is equipped with a built-in advanced radio system that allows you to remotely change the settings. The HH series here is not equipped with it, and the settings can not be changed remotely.
Visico studio equipment meets the highest standards and is constantly tested for quality, durability and reliability. Use is made
​​
of high quality materials.
Features:
- 300W / s flash heads
- Very solid and suitable for series of shots.
- Reliable flash power and color temperature
- Unique trigger capabilities (can be used with TTL flash)
- Supplied with bag and stands..
- Cooling Fan


In the box:
· 2 x visico VC -flash head
· 2 x Umbrella reflektor
· 2 x Umbrella translusent
· 2 x LS 8006 light stand
· 1x Trigger transmiter 816 tx
· 1x Travel bag
Technical
Warranty
1 Year Service & Spareparts