Sony FE 50mm f/2.8 Macro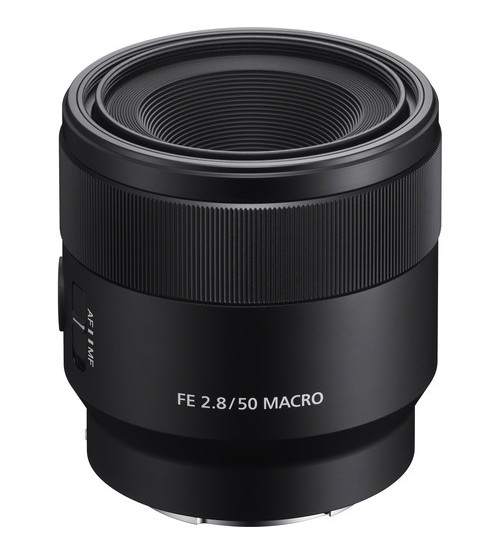 Lihat gambar lebih detail
PRODUCTHIGHLIGHTS
· E-MountLens/Full-Frame Format
· ApertureRange: f/2.8 to f/16
· One Extra-LowDispersion Element
· OneAspherical Element
· Life-Size 1:1Magnification
· MinimumFocusing Distance: 6.3"
· Focus RangeLimiter & Focus Hold Button
· Dust- &Moisture-Resistant Construction
· Rounded7-Blade Diaphragm
Anormal-length prime with close-focusing capabilities, the FE 50mm f/2.8 Macro Lens from Sony offers an impressive 1:1 maximummagnification, along with a 6.3" minimum focusing distance, for makinglife-size imagery of close-up subjects. Useful controls, such as a top-printeddistance and magnification scale, focus range limiter, and focus hold button,all benefit more precise focusing adjustments for refined results.Complementing the handling capabilities, the optical design also incorporatesboth an aspherical and an extra-low dispersion element, which work to suppresschromatic and spherical aberrations for increased clarity throughout the focusrange. Additionally, the lens sports a dust- and moisture-resistant design tobenefit working in inclement weather conditions.
· Standardprime macro lens is designed for full-frame Sony E-mount mirrorless cameras,and can also be used on APS-C models where it provides a 75mm equivalent focallength.
· True macrodesign affords a life-size, 1:1 magnification ratio along with a 6.3"minimum focusing distance for working with close-up subjects. A focusingdistance and magnification scale is also printed on the top of the lens to aidin more technical applications.
· Oneaspherical element and one extra-low dispersion glass element are incorporatedinto the optical design to reduce both spherical and chromatic aberrations forincreased clarity and sharpness.
· A focus rangelimiter switch allows you constrain the usable focus range between6.3-11.8", 11.8"-infinity, or full, and a focus hold button is alsofeatured to manually stop the autofocus at a specified point.
· Roundedseven-blade diaphragm contributes to a pleasing bokeh quality.
· Dust- andmoisture-resistant construction benefits this lens' use in inclementconditions.
Technical
Warranty
Sony Indonesia