Fujifilm X-A20 Kit 15-45mm f/3.5-5-6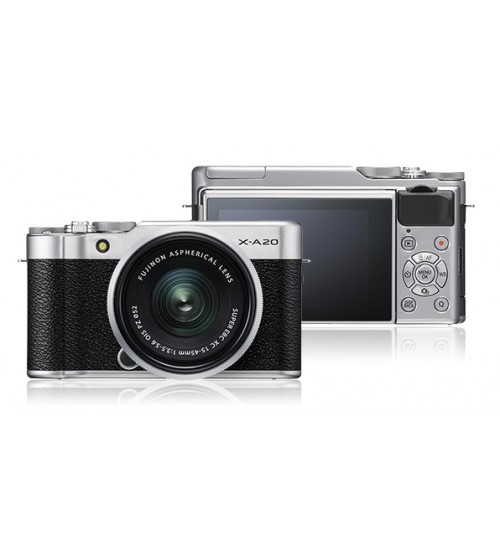 Lihat gambar lebih detail
Compact & Stylish
The compact and lightweight FUJIFILM X-A20 sports a retro design.
Selfie
The rear LCD employs the slide-and-tilt mechanism so that even when it is tilted by 180 degrees, the LCD is not blocked by the camera, allowing for 100% visibility. The grip is shaped to accommodate both normal shooting and self-portraits. When taking a self portrait, you can focus and release the shutter by pressing the vertical command dial found directly below your index finger to minimize camera shake. Rotating the tilting LCD upward by 180 degrees activates the Eye Detection AF to automatically adjust the focus on the subject's eyes. The FUJIFILM X-A20 also features the Portrait Enhancer mode for natural and beautiful skin-tone reproduction.
Macro Photography
When fitted with the supplied lens "XC15-45mmF3.5-5.6 OIS PZ" it can focus on a subject at a distance of approx. 5cm from the front edge of the lens for class leading macro capability in its class.
Film Simulation
Create that perfect analog look and feel using one of our 6 unique film simulation modes.
New Touchscreen Operation
The LCD monitor features a touchscreen panel for intuitive control, just like a smartphone
Super Intelligent Flash
The built-in pop-up flash supports the Super Intelligent Flash system that accurately controls light output according to individual scenes. When shooting indoor portraits in low-light, small items or food, the flash system reduces highlight clipping to produce images exactly as your eyes see them. Natural colors and brightness are also achieved when shooting backlit scenes or photographing a person under intense sunlight that casts strong shadows on the face.
Specs
Movie File Format : MOV
Movie Video Compression : H.264
Audio : Linear PCM Stereo
Lensa FUJIFILM X mount
Supported with OIS type lens
ISO sensitivity Bracketing (1/3EV, 2/3EV, 1EV)
White Balance Bracketing (1, 2, 3)
Manual Focus / Multi AF / Area AF / Continuous AF / Tracking AF
TTL contrast AF, AF assist illuminator available
Area AF (49 areas with 7 x 7), Changeable AF frame size
Automatic Scene recognition / Custom / Color temperature selection (2500K~10000K) /
Preset: Fine,Shade, Fluorescent light (Daylight), Fluorescent light (Warm White), Fluorescent light (Cool White),Incandescent light, Underwater
Manual pop-up flash (Super Intelligent Flash)
Guide number : Approx 5 (ISO100""m) / Approx 7 (ISO200""m)
USB 2.0 High-Speed / micro USB terminal
HDMI Micro connector (Type D)
NP-W126S Li-ion battery (included)
* connectable with Remote Release RR-90 (sold separately)
Exterior Design
A retro and compact design allows the camera to naturally fit into your daily life. With XC15-45mmF3.5-5.6 OIS PZ lens, the kit is as light as 494g.
Wireless Communication
The camera has a built-in Wi-Fi* capability to connect to instax SHARE printers for on-the-spot printing, transfer photos to your smartphone or tablet, or even enable remote-shooting using the Fujifilm Camera Remote app.
Selfie & Eye Detection AF
The 180-degree tiltable LCD monitor allows you to check your composition and facial expression before taking a picture. The Eye Detection AF function is automatically activated when you rotate the tilting LCD panel. It helps to achieve superior selfies by focusing on the eyes.
Ergonomic Grip
The grip is shaped to accommodate both normal shooting and self-portraits alike. The final shape, based on ergonomic design, was decided through prototype testing involving hundreds of photographers
Automatic shooting modes
Press the vertical command dial to take photos
When taking a self-portrait, you can take photos by pressing the vertical command dial found directly below your index finger to minimize camera shake. The Self Timer function offers Smile Detection, that take photos automatically when the subject smiles, Buddy Timer which shoots when two people come close together, and Group Timer mode that automatically shoots when a specified number of people come into the frame.
Portrait Enhancer Mode
The camera makes automatic adjustments to enhance skin tones providing better portrait shots..
Macro Photography
Macro mode lets you shoot objects as close at 5cm away from the lens, meaning you can get up close and personal to your subject.
Film Simulation
The FUJIFILM X-A20 offers a total of six Film Simulation modes, namely the true-to-life colors of PROVIA (standard), the vibrant tones and saturated colors of Velvia (vivid), the soft tones of ASTIA (soft), the documentary-style deep colors and soft shades of CLASSIC CHROME, as well as Monochrome and Sepia.
Touchscreen Operation
The LCD monitor features a touchscreen panel for intuitive control, just like a smartphone.
Touch shot
Touch AF
AF Area Setting
Touch Zoom
Drag Image
Dial Operation
The Mode dial lets you see what setting your camera is currently on. Use this dial to instantly change to the most suitable mode for the moment you want to capture.
Advanced SR AUTO
Advanced SR AUTO automatically optimizes shutter speed, aperture and other settings. It instantly recognizes 14 scene types and then selects the most appropriate settings. All you do is frame, press the shutter and enjoy pro-class photo quality.
Advanced Mode
Advanced Filter
Multiple Exposure
Panorama Mode
The Panorama mode creates dynamic panoramic images by automatically combining your shots. Simply follow the guide path to create a smooth panoramic shot.
Full HD video recording
Not only does the X-A20 feature Full HD quality, but it also lets you capture beautiful videos using Film Simulations. The Digital Image Stabilizer cancels hand vibrations, improving the quality of your video.
Extended battery life of approx. 410 frames per charge
The energy-efficient design has extended the battery life to a class-leading level, allowing you to concentrate on shooting pictures without having to worry about remaining battery power.
The camera also supports charging via USB for maximum convenience, especially while traveling.
Electronic shutter with the maximum speed of 1/32000 sec
When using the ultra-fast electronic shutter, even under clear skies or other bright conditions, you can use large aperture to achieve a shallow depth of field without over-exposing the image. You can capture a scene exactly as intended without having to use an ND filter.

Technical
Pixel
16.3 MP
Sensor Type
23.6mm x 15.6mm (APS-C) CMOS with primary color filter Sensor Cleaning system Ultra Sonic Vibration
Display Size
3" with 1,040K-dot Tilt-type, TFT color LCD monitor Full HD 1920 x 1080 30p
Memory Card Type
SD / SDHC / SDXC
Battery
NP-W126S
Warranty
1 Year Service & Spareparts